Small business invoice factoring can be helpful in many situations, but sometimes it's an absolute lifeline. We'll review how factoring works and explore a few situations where it shines below.
How Small Business Invoice Factoring Works
Invoice factoring turns your unpaid invoices into cash in as little as one business day. Instead of waiting weeks or months for your client to pay an outstanding invoice, you sell it to a factoring company at a discount. The factoring company provides you with cash upfront and then sends you the remaining balance minus a small factoring fee when your client pays.
Factoring advance rates vary by industry and other considerations, such as the size of the invoice and terms of your agreement, but can reach up to 95 percent of an invoice's value. Factoring fees are usually between one and five percent of an invoice's value.
Unique Benefits of Small Business Invoice Factoring
Business owners appreciate invoice factoring because it offers unique benefits that other forms of funding don't, such as: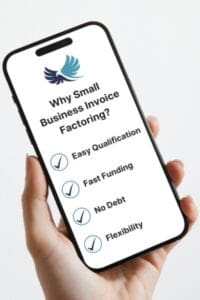 Easy Qualification:

Unlike traditional loans and lines of credit, it's

easy to qualify for factoring

.

Fast Funding:

Cash advances are typically deposited directly into your bank account within two business days. Some factoring companies even offer same-day payouts.

No Debt:

Your client clears the balance when they pay their invoice, so your business has nothing to pay back.

Flexibility:

You control which invoices you factor and how often you factor.
8 Situations When Small Business Invoice Factoring is Vital
The unique benefits of factoring mean it's often the superior funding option for businesses facing specific challenges.
1. During Cash Flow Crunches
Many businesses focus exclusively on profit. However, cash flow issues are responsible for four in five business failures, according to the National Federation of Independent Business (NFIB). That's because it's difficult, and often impossible, to keep the doors open when there's not enough cash to cover expenses, even if the money will arrive later.
It accelerates cash flow by providing instant payment for goods and services you've already delivered, so these situations don't become a problem.
2. When Coping with Rapid Growth
Rapid growth is often described as a "Champagne problem," but its impact is insidious. During these periods, your expenses skyrocket to meet increased demand. However, you're covering them with the cash flow generated yesterday when your business produced less revenue.
This creates a cash flow crunch, as described above. Factoring solves it by closing the gap.
3. When Your Business Has No Credit or Bad Credit
When you apply for a loan or line of credit, everything from your business credit score to time in business is scrutinized. Small business invoice factoring is different because your customer pays the balance when they pay their invoice. Therefore, their creditworthiness is a greater consideration than yours is.
You can qualify for factoring even if banks have denied you before, you have bad credit, or you haven't been in business long.
4. When Dealing with Seasonal Demand Fluctuations
Seasonal swings impact many businesses. This has the same effect as rapid growth. You're preparing for the uptick in business with the reduced cash flow of the slower season.
Those that leverage invoice factoring can ramp up quickly without taking on debt by leveraging cash they've already earned but that customers haven't paid yet.
5. When You're Struggling to Make Payroll or Pay Vendors on Time
More than two-thirds of employees live paycheck to paycheck, per the American Payroll Association. They can't afford payroll delays, and a significant portion will start looking for new jobs after a single delay.
Your vendors are often in a similar situation. They rely on your timely payments. Delays can damage the relationship and cause you to lose preferential treatment or discounts. They also typically result in late fees.
If cash flow issues are putting your business at risk of damaging these critical relationships, factoring can help you bridge the gap.
6. When Your Business Goals Include Expansion
Traditional loans are often the preferred funding method for business expansion, but they only work if you have concrete plans for the cash and can wait weeks or months for the loan to pay out. Because business opportunities can pop up at any time and may vanish just as quickly, it's crucial to have a funding source that pays out quickly.
Because factoring offers instant payment and is flexible, it's often ideal for businesses in this situation. You can set up your factoring account and then not factor a single invoice until an opportunity comes along that you want to seize.
7. During Times of Economic Uncertainty
Factoring for businesses in times of economic uncertainty can offer many benefits. For instance, the credit checks performed by your factoring company can help reduce bad debt. Outsourcing your collections to your factoring company will also allow you to maintain strong customer service, freeing yourself from chasing invoices so you can apply your time to running your business. Plus, it speeds up payments to eliminate cash flow shortfalls.
8. When You're Trying to Avoid Debt or Get Out of Debt
Virtually all businesses require cash injections from time to time. Unfortunately, most funding solutions put the business in debt. While carrying some debt is ok and can boost your overall business credit score, carrying too much debt decreases it. Debt can also make renting commercial properties, securing loans, obtaining insurance, and more, difficult.
Invoice factoring is one of the few ways small businesses can obtain working capital without accruing debt, so it may be a better option for those trying to avoid debt or pay off their current debts.
Get a Free Small Business Invoice Factoring Quote
If your small business is experiencing any of the situations described above or it seems like factoring is the ideal solution for your cash flow issues, we're happy to connect you with a factoring company that specializes in your industry and offers competitive rates. Request a free factoring quote to learn more or get started.

Request a Factoring Rate Quote