Georgia Factoring Companies
Georgia – the Peach State – is a state steeped in rich history and economic opportunities. It is the state where the world-renowned Coca-Cola Company began, and The Home Depot continues to thrive. Also known for producing a large percentage of the country's peanuts, the agricultural industry in Georgia is just one of many sectors with fertile ground for small businesses to grow in.
If you have started a small business in Georgia or are looking to grow your established company, but you need a cash flow boost to kickstart your new goals, Georgia factoring companies give you the opportunity to turn your unpaid invoices into immediate cash without taking out a loan.
You can improve your cash flow and take your business to new heights by partnering with a Georgia factoring company that specializes in helping businesses like yours turn invoices into immediate capital.
Some industries that benefit from accounts receivable factoring in Georgia include:
Professional Services

Agriculture

Hospitality
Invoice Factoring Services in Georgia
Invoice factoring, also called accounts receivable factoring, is a financing option that refers to the selling of business invoices to factoring companies for immediate cash. It can help you grow without incurring debt or diluting your equity.
What are the services a Georgia factoring company can offer your business?
Transportation Factoring: Also called freight factoring and trucking factoring, it gives you money for the invoices of the loads you run. When you submit your freight bills for factoring, your transport business will have the working capital it needs to keep going until shipper payments are received.

Single-Invoice Factoring: Also known as spot-factoring, this is the ideal service for when you need funds for a single transaction and don't want a long-term commitment. As with other factoring arrangements, the money is generally paid out within twenty-four hours.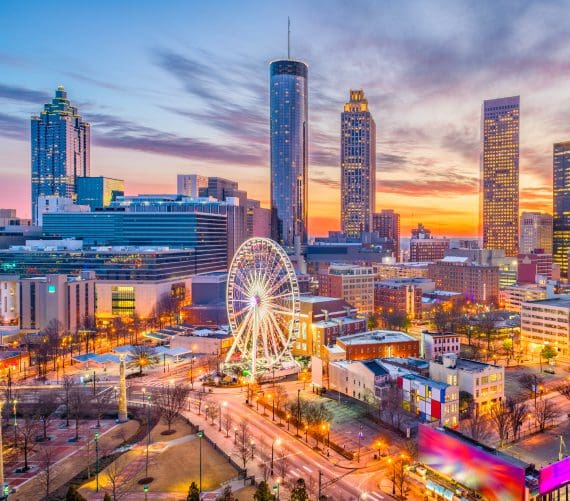 What Are The Risks Involved in Invoice Factoring
As with any financial service, there are always risks involved for both the financier (lender) and the applicant (borrower). For example, with a bank loan, the bank performs credit checks and has strict approval requirements to vet applicants, and then they will ask for collateral as surety. If you default, you may need to pay hefty penalties, and you risk losing your collateral.
Factoring, on the other hand, works slightly differently. With factoring, as there is no collateral, interest, or lengthy application process, the liability depends on the type of factoring agreement you sign:
Recourse Factoring: With this type of factoring, your business will be held liable if your debtor does not pay the invoice held by the factoring business, although they must make every effort to ensure repayment. So, if one of your clients doesn't pay the amount due, you will need to repay the factoring company the advance you received for that invoice. Because the risk remains with your business, this option typically involves lower fees.

Non-Recourse Factoring: The factoring company takes responsibility for the non-payment of invoices by debtors. So, if one of your clients cannot pay due to bankruptcy or similar circumstances, the factor will accept the loss. This is why non-recourse factoring agreements will have lower risks for your business but slightly higher factoring fees.
Accounts Receivable Financing in Georgia
Factoring is the most common form of accounts receivable financing for small businesses that need to cover their payroll or require working capital to take on new business. However, it is not the only type of receivables financing available.
Accounts receivable loans are another type of accounts receivable (AR) financing, where your invoices are used as collateral to raise funds from a bank. While factoring companies will assume ownership of your invoices (and your clients will make payments directly to them), AR Financing works like a loan. Using your unpaid invoices as collateral, the bank will lend you a portion of their value. The exact advance will vary depending on the quality of your clients. So, if the clients are very credible, the loan portion may be higher. However, you will still own the receivables and will, therefore, be responsible for collecting the payment from your debtors. Once your clients have paid their invoice balances, you will need to repay the factoring company – like a loan.
Small Business Loans in Georgia
Factoring is a quick alternative to traditional types of funding and is ideal for small businesses that struggle to get approved for traditional financing. This is because, as long as your company has creditworthy clients, you are likely to be approved for factoring – your personal or business credit scores are not usually a factor of consideration.
There are several factoring companies in Atlanta, GA, and throughout the Peach State who will give you the largest portion of your invoice value in cash.
If you are looking for a small business loan in Georgia, the state does offer a list of traditional and alternative funding options, as well as federal loans and grants. These include Georgia Green Loans, where you are helped to start or expand an eco-friendly product or service or "green" an existing business. The City of Atlanta has an extensive selection of loan programs and grants to assist small businesses. However, if you even qualify, loans will be recorded as debt on your balance sheet and will likely include monthly repayments and high interest – none of which is involved with invoice factoring.
Georgia Business Economy
The key industry sectors of Georgia's business economy are aerospace; automotive, including electric vehicles (EV); agricultural technology (AgTech); cybersecurity; financial technology (FinTech); film and entertainment; food processing; life sciences; and logistics.
The Port of Savannah is the largest single container terminal and on-terminal rail facility in North America, and two of the country's largest fiber trunk lines (North/South and East/West) intersect in metro Atlanta. Georgia's leading exports are aerospace, agriculture, automotive, chemical products, medical devices, machinery, paper, and paper board. Its main export markets are Canada, China, Germany, Mexico, and Singapore.
In such a diverse economy, there are many small businesses and the perfect Georgia factoring partner for each, whether in the agricultural or export sector. Sell your invoices to Georgia factoring companies for a quick inflow of cash.
Factoring companies in Georgia:
Do you want to do what is best for your business, so you are looking into factoring companies in Atlanta and throughout Georgia? Read through this Invoice Factoring Guide to learn more about invoice factoring and how to find the ideal factoring partner in Georgia.
Request a Factoring Rate Quote