New Mexico Factoring Companies
From the stunning deserts and mountains to its rich history, New Mexico has a lot to offer.
New Mexico factoring companies are used across many industries in New Mexico to help companies to obtain quick funding. With factoring services, you don't have to wait on a credit check or bank approval.
The state is home to several military bases, including Kirtland Air Force Base and White Sands Missile Range, which are significant drivers of the local economy. Some of the most common industries that use factoring services include:
Don't see your industry listed above? Not to worry; Any B2B industry that invoices customers for goods or services can benefit from factoring services.
Invoice Factoring Services in New Mexico
Are you a business owner in New Mexico struggling with cash flow challenges due to slow-paying customers? Invoice factoring services offered by factoring companies in New Mexico can be the solution you need.
With invoice factoring, you sell your outstanding invoices to a factoring company in exchange for immediate cash. The factoring company then takes responsibility for collecting payments from your customers, freeing up your time and providing you with the working capital you need to operate and grow your business.
Here are some types of invoice factoring services available in New Mexico:
Spot Factoring Services: If you only have occasional cash flow issues, spot factoring may be the best option for you. This type of factoring allows you to sell a single invoice rather than your entire accounts receivable portfolio.

Recourse Factoring Services: You retain the responsibility if a customer fails to pay and will, therefore, be responsible for paying the factoring company back or replacing the invoice with another one if one of your customers defaults. While this type of factoring comes with more risk for you, it is often the most affordable option for businesses that are low on funds.

Non-Recourse Factoring Services: Shifts the entire responsibility of collecting payment to the factoring company. This means that if a customer fails to pay, the factoring company assumes the loss. While this type of factoring can be more expensive than recourse factoring, it offers businesses peace of mind and makes the process much easier.
Ultimately, the decision of which factoring option to choose will depend on your business's specific needs and risk tolerance. Be sure to weigh the pros and cons of each option and choose the one that is right for you. You can find more information about the types of factoring and how each of them works in this Factoring Guide.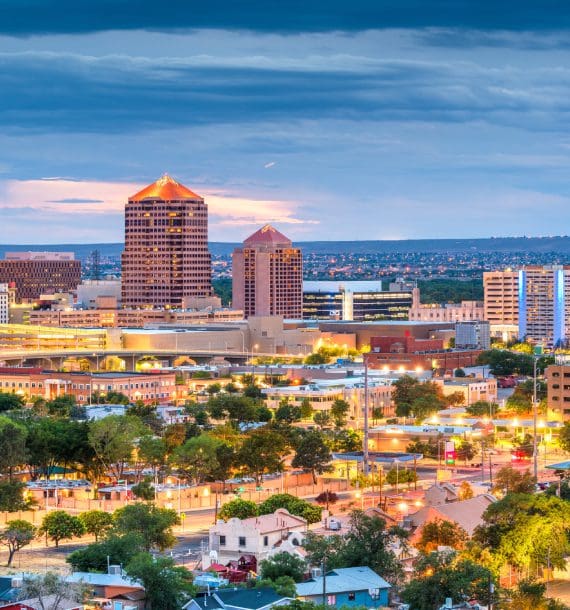 Accounts Receivables Financing in New Mexico
Aside from invoice factoring, there are various other financing options available for businesses in New Mexico. Invoice financing is one such option, which is similar to factoring but allows you to retain control over your invoices. With invoice financing, you use your unpaid invoices as collateral to obtain a loan, which you then repay once your customers pay their outstanding bills. This can be a good choice for businesses looking for short-term cash flow solutions while retaining customer relationships.
Asset-based lending is another financing option where businesses use their assets, such as inventory, equipment, invoices, or property, as collateral to secure a loan. Asset-based lending can be beneficial for businesses that have a lot of physical assets but may not have a strong credit history.
For businesses that rely heavily on credit card transactions, merchant cash advances can be a good option. MCAs offer upfront cash in exchange for a percentage of your daily credit card sales. This type of financing is ideal for businesses that rely on credit card transactions, such as retail stores or restaurants.
Small Business Loans in New Mexico
New Mexico offers several loan programs to support small businesses, including the Small Business Investment Corporation and the Rural Business Program. You, however, need a good credit record, and it may take time to receive the loan. Let's not forget the interest rates that come with loans.
Factoring companies typically offer more flexibility than traditional banks, which can be helpful for businesses with less-than-perfect credit or inconsistent cash flow. With factoring, the business is essentially selling its invoices, so there's no need to worry about paying back a loan with interest.
New Mexico's Business Economy
While the state has faced some economic challenges in recent years, it's also seen significant growth in certain sectors. In particular, the technology industry has been on the rise in New Mexico, with several startups and established companies setting up shop in the state. New Mexico offers a range of opportunities for businesses in various industries, and factoring companies can be an essential resource for companies looking to improve cash flow and grow their businesses.
Factoring companies can help businesses stay competitive and thrive in New Mexico's dynamic business economy, although it is essential that you choose the right factoring company to partner with.
Factoring Companies in New Mexico:
Take the guesswork out of choosing a factoring company by letting the Invoice Factoring Guide (IFG) team handle all the research for you. We will contact you to discuss your specific financing needs, the problems your business is facing, and the solutions you are looking for, and we will use what we learn to match you with the best New Mexico factoring company for your business.
Request a free rate quote below!
Request a Factoring Rate Quote