Oklahoma Factoring Companies
When you think of Oklahoma, you might imagine vast open spaces and cattle ranches. But did you know that Oklahoma is also a major oil and natural gas producer in the United States? To help businesses in all industries keep their operations running smoothly, Oklahoma is home to several specialized factoring companies that offer a range of financial services.
Manufacturing is also a significant contributor to the Oklahoma economy. Whether you're a manufacturer of machinery, food products, or transportation equipment, or you're involved in cattle farming, aviation, retail, construction, or tourism, factoring companies in Oklahoma have the solution you need. With factoring services, you can receive instant financing for your accounts receivable, giving you the financial flexibility you need to manage cash flow, seize growth opportunities, or cover expenses for freight and staff.
No matter where your business is located in Oklahoma, from Oklahoma City to other major centers, you'll find a factoring company that can meet your needs. So why wait? Get in touch with an Oklahoma factoring company today and start enjoying the benefits of financial flexibility.
Invoice Factoring Services in Oklahoma
Invoice factoring is a financial solution that allows businesses to receive financing based on their accounts receivable. This type of financing will enable businesses to receive an advance on their outstanding invoices, giving them quick access to cash flow without having to wait for their customers to pay. In Oklahoma, there are several factoring companies that offer this helpful financing solution.
There are two main types of factoring: recourse and non-recourse. In recourse factoring, the business is responsible for collecting payments from its customers if they default on their invoices. This type of factoring typically has lower fees but higher risk. On the other hand, in non-recourse factoring, the factoring company assumes the risk of non-payment and is responsible for collecting payments from the customer. This type of factoring is more popular and considered safer for businesses, but it typically has higher fees.
In addition to these two main types of factoring, some factoring companies also offer spot factoring, which is a one-time solution for businesses that do not require a long-term contract. This type of factoring provides quick cash flow but does not provide the ongoing financing benefits of regular factoring.
Oklahoma factoring companies also provide accounts receivMost factoring companies will also handle collections and conduct credit checks on your customers to help ensure the security of your financing. Overall, invoice factoring is a flexible solution that can help businesses manage their cash flow and grow their operations.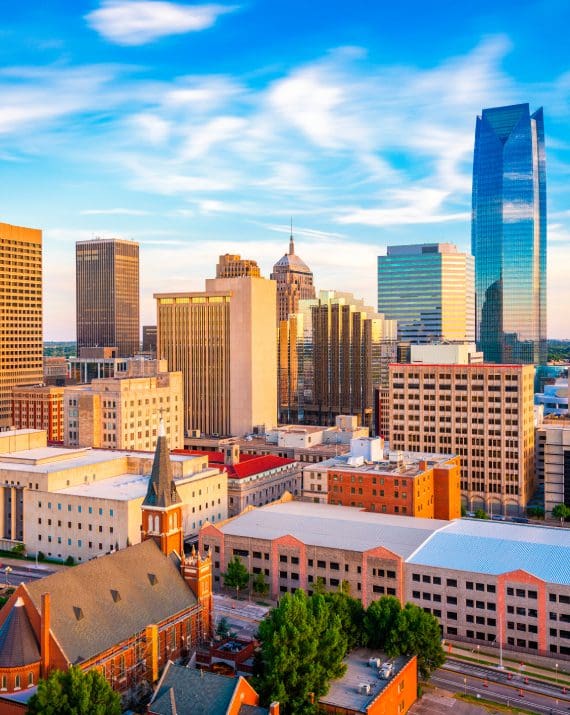 Accounts Receivable Financing in Oklahoma
Businesses in Oklahoma have several financing options available besides factoring. One option is invoice discounting. Similar to invoice factoring, invoice discounting (also known as invoice financing) allows you to receive an advance on your outstanding invoices. However, with invoice discounting, you maintain control of your accounts receivable and collections. This option is ideal for businesses that want to keep their customer relationships and collections in-house while still benefiting from improved cash flow.
If your business has valuable assets, such as equipment, inventory, or real estate, you can leverage them for a cash flow boost through asset-based lending. This financing option allows you to secure a loan using your assets as collateral, providing a flexible and often more affordable alternative to traditional bank loans. However, you will still need to keep in mind that there will be monthly repayments, the risk of losing your important assets if you default, and the accumulation of debt on your balance sheet.
For businesses with confirmed purchase orders but limited cash flow to fulfill them, purchase order financing can be a viable solution. This financing option provides you with funds to pay your suppliers, ensuring the timely delivery of goods to your customers.
Small Business Loans in Oklahoma
As a small business owner in Oklahoma, you have various options for obtaining financing to support your operations and growth. However, not all financing options are suitable for every business, as eligibility requirements and terms can vary.
Traditional lending options, such as banks and credit unions, offer loans to some creditworthy small businesses, but these loans typically come with high-interest rates and stringent eligibility requirements, including credit checks and the need for collateral.
Other alternative lending options for small businesses in Oklahoma include online lenders, peer-to-peer platforms, and micro-lenders. These options offer quick financing solutions, but they may also come with high-interest rates and fees. Factoring, however, provides interest-free financing, which can make it a more affordable option for small businesses compared to traditional loans or the various alternative lending options.
Oklahoma's Business Economy
Oklahoma boasts a diverse and robust business economy, with key economic sectors that include Oil and Gas, Aerospace and Defense, Agriculture and Biosciences, Information Technology, and Financial Services, among others. The state's government and private sector are actively investing in these industries to support their growth and development.
However, despite the overall strength of the business economy in Oklahoma, many smaller businesses, like the farmers and ranchers, still face operational challenges brought on by limited cash flow. To help these businesses manage their costs more effectively and improve the amount of cash they have on hand, Oklahoma factoring companies offer a range of services, including freight factoring.
Factoring companies in Oklahoma serve a variety of businesses that are facing financial stress. By offering flexible financing options, factoring companies in Oklahoma help these businesses maintain their cash flow and focus on their core operations, even during challenging times.
Factoring Companies in Oklahoma:
If you own a business in Oklahoma and you're looking for a debt-free way to improve your cash flow and grow your business, invoice factoring is definitely worth your consideration. Contact Invoice Factoring Guide (IFG) for help finding the best Oklahoma factoring company to solve your unique cash flow problems.
Request a Factoring Rate Quote