Hawaii Factoring Companies
Hawaii is known for its stunning beaches, vibrant culture, and thriving tourism industry. It's also home to a diverse range of businesses, including insurance, real estate, rental, and leasing companies that see success throughout the year. For these businesses, invoice factoring can be a lifesaver, especially when it comes to managing cash flow and accessing funds quickly. That's where Hawaii's factoring companies come into play.
In Hawaii, invoice factoring is popular among various industries, such as:
Healthcare providers

Tourism

Construction companies

Small businesses in need of immediate cash to cover expenses
By partnering with a local factoring company, Hawaii's businesses can take advantage of flexible financing solutions that help them manage cash flow more efficiently and meet their financial obligations without breaking a sweat.
Invoice Factoring Services in Hawaii
In order to keep up with a competitive market, businesses need constant cash flow. It may be difficult if they are start-ups or experiencing financial difficulties. Invoice factoring is a financing option that allows businesses to sell their outstanding invoices to a factoring company in exchange for immediate cash. The factoring company then collects payment from the customer, taking a small fee for their services.
Invoice factoring includes recourse and non-recourse factoring services. Recourse factoring is the most common type of factoring, where the business is responsible for any unpaid invoices. Non-recourse factoring is where the factoring company assumes the risk of unpaid invoices. You can learn more about the factoring types and how each works in this Factoring Guide.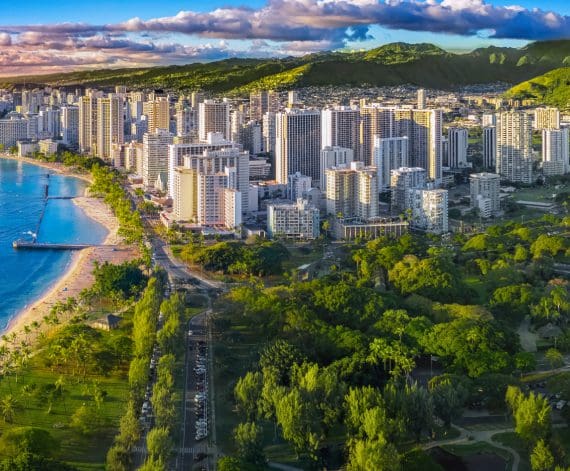 Accounts Receivable Financing in Hawaii
Invoice factoring, while one of the better options, is not the only financial solution that allows small businesses to use their unpaid invoices to get working capital. Some other options include accounts receivable financing (also known as invoice discounting) and asset based lending.
With invoice discounting, businesses can borrow against their outstanding invoices, using them as collateral. Accounts receivable financing can provide businesses with a reliable source of working capital to help them manage their cash flow and grow their business. However, because it works more like a loan, it comes with the same risks as traditional lending, you will need to repay the financing company (with interest), and the transaction will be recorded as debt on your balance sheet, unlike invoice factoring.
Asset-based lending allows you to use your valuable assets as collateral for a loan, whether it be your equipment, property, or invoices. You will need to repay the loan through regular, interest-baring installments, and there is always the risk of losing your collateral if you default.
Factoring is a flexible financing option that can be customized to your unique needs. If you don't want a recurring factoring arrangement, you can also submit invoices for factoring on a once-off basis. Spot factoring allows businesses to sell a single invoice, so you won't have to commit to a long-term contract if you don't need to. You can simply access debt-free funding as and when you need it.
Factoring companies also offer additional services and benefits that make their services more attractive. The transportation and logistics industries, for example, often benefits from fuel cards, road-side assistance, and load boards that are offered by freight factoring companies. Depending on your industry, and your funding requirements, the factoring company you choose will work with you to find a financing solution that is mutually beneficial and offers the most reward for all involved parties.
Small Business Loans in Hawaii
While traditional small business loans are available to businesses in Hawaii, they can be difficult to obtain, especially if your business doesn't have a good financial standing. Invoice factoring provides a flexible alternative financing solution for businesses in Hawaii. It provides you with immediate cash, helping your business meet its financial obligations and expand its operations without taking on debt.
There is no need for collateral or a lengthy approval process. Factoring companies take on the risk of unpaid invoices, allowing you to focus on growing your business rather than managing your cash flow and worrying about slow-paying clients.
Hawaii Business Economy
Hawaii has a diverse economy, with tourism being the largest industry. Other significant industries include agriculture, government, and export industries. Although the state has taken steps to support small businesses and promote economic growth post-pandemic, the country's biggest industries can face financial crises with the rising cost of inflation and political instability.
Invoice factoring services can help businesses in Hawaii manage their cash flow and grow their business, contributing to the overall health of the state's economy.
Factoring companies in Hawaii:
Business Factors

Eagle Business Credit
If you are looking for a factoring company in Hawaii, you can compare some of the best options on the Invoice Factoring Guide website. Alternatively, request a free rate quote and we will be in touch with you to find out your funding needs and match you with the best Hawaii factoring company to help you meet them.
Request a Factoring Rate Quote