New Jersey Factoring Companies
The beautiful Garden State of New Jersey is famous for its rich history, scenic beaches, and cultural diversity. This state is buzzing with a thriving business community that spans a number of industries. To fuel their growth, many of these businesses turn to New Jersey factoring companies to overcome cash flow hurdles and keep their operations running smoothly.
New Jersey has a diversified economy, and its biggest industries include pharmaceuticals, telecommunications, finance, and tourism. The state is home to many multinational corporations, including Johnson & Johnson, Merck & Co., Verizon, and Prudential Financial.
Many industries in New Jersey use factoring companies; the most common include:
Do you work in any of these industries? You probably rely on funding to compensate for the cash flow challenges introduced by slow-paying customers, long payment cycles, and seasonal fluctuations. Factoring companies can help by providing working capital to fund business operations and growth during these slow periods.
Invoice Factoring Services in New Jersey
By selling your outstanding invoices to a factoring company, you can access immediate cash while the factoring company takes on the responsibility of collecting payments from your customers.
New Jersey businesses can choose from different types of factoring services tailored to their unique needs:
Spot Factoring Services: Perfect for businesses that need to fund specific invoices or customers. You decide which invoices to sell to the factoring company and only pay for the services you use.

Recourse Factoring Services: You retain responsibility for collecting invoice payments from your customers. If a customer doesn't pay, you must buy back the invoice from the factoring company or replace it with another invoice.

Non-Recourse Factoring Services: The factoring company assumes responsibility for collecting invoice payments from customers. If a customer fails to pay, the factoring company absorbs the loss.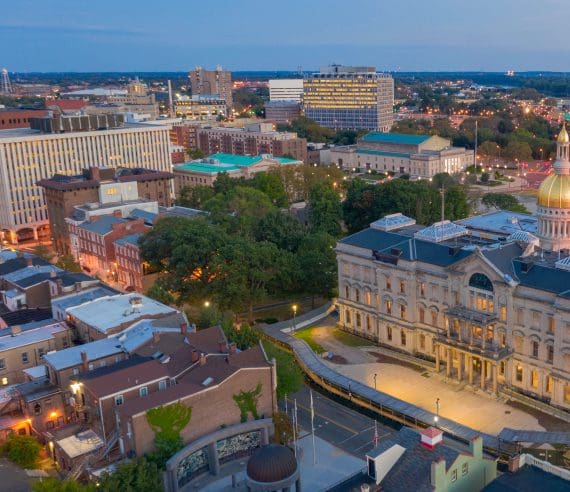 Accounts Receivables Factoring in New Jersey
Don't want to sell invoices for cash? Accounts receivable financing is similar to factoring, but instead of selling invoices to a factoring company, businesses use their accounts receivable as collateral to obtain a loan. The lender advances a percentage of the accounts receivable to your business, and you repay the loan over time.
Some factoring companies in New Jersey also offer additional financing options, such as:
Asset-Based Lending: Use your assets, including accounts receivable, inventory, equipment, and real estate, as collateral to obtain a loan.

Merchant Cash Advances: Receive a lump sum of cash in exchange for a percentage of your future credit card sales. The lender deducts repayments from your daily credit card receipts until the loan is repaid.

Equipment Financing: Access funds to purchase or lease essential business equipment, such as machinery, vehicles, or technology.
Small Business Loans in New Jersey
There are small business loans available from banks in New Jersey, but these loans come with strict requirements. For example, if you don't have a good financial standing or you are waiting on customers to pay you to sort out your debt, it's unlikely a bank will help you out. In this case, factoring may be a better option for you to get immediate cash to fund your operations.
Invoice factoring, in particular, is a better option than small business loans because it provides faster funding and does not require collateral or a good credit score. Factoring companies base their funding decisions on the creditworthiness of the business's customers, not the business itself.
With invoice factoring, you can access funds quickly based on the creditworthiness of your customers, ensuring your business has the cash flow it needs to thrive in New Jersey's bustling economy.
New Jersey's Business Economy
New Jersey's business economy is vibrant and diverse. Many industries contribute to its growth and success, including its influx of Fortune 500 companies. It is one of the wealthiest states in the country, thanks to its strategic location between New York City and Philadelphia.
Is New Jersey an attractive location for your business? Don't let cash flow challenges hold you back from thriving. Factoring companies can offer you a range of financing solutions that can help your business overcome challenges and achieve your goals.
Factoring Companies in New Jersey:
Alexander Financial Solutions
To be sure you're making an informed decision when choosing a factoring company, read through this Invoice Factoring Guide to learn more about invoice factoring and how to find the ideal factoring partner in New Jersey.
Request a Factoring Rate Quote