Invoice Factoring for Machine Shops
Owning a business like a machine shop, which operates in an extremely capital-intensive and specialized industry, often requires the need for additional funding, especially if your business deals with slow-paying clients.
While you want to extend reasonable payment terms to your customers, your expenses don't stop accumulating just because your clients can wait up to 90 days to pay their invoices. Plus, whether you're manufacturing machine parts from metal, glass, wood, or plastic, you need specialized equipment that comes with a hefty price tag.
These factors, and others, can make it challenging to cover your operating costs, such as payroll and expansion, or even to save for a rainy day. Invoice factoring can help you improve the cash flow of your machine shop, reduce the impact of slow-paying customers, and obtain the resources you need to grow your business.
Machine Shop Factoring vs. Bank Loans
There are significant differences between traditional bank loans and invoice factoring. The most notable differences are:
Approval time: Bank loans can take weeks or months to process, while invoice factoring can be approved in as little as 24 hours.

Credit requirements: Banks may have strict credit requirements, making it difficult for some machine shops to get approved. Invoice factoring relies on the creditworthiness of your clients, not your business.

Collateral: Bank loans may require your machine shop to provide collateral, while invoice factoring uses your unpaid invoices as collateral.

Repayment: Bank loans require repayment with interest over time, while invoice factoring is not a loan and doesn't require repayment. Instead, the factoring company collects payment directly from your clients.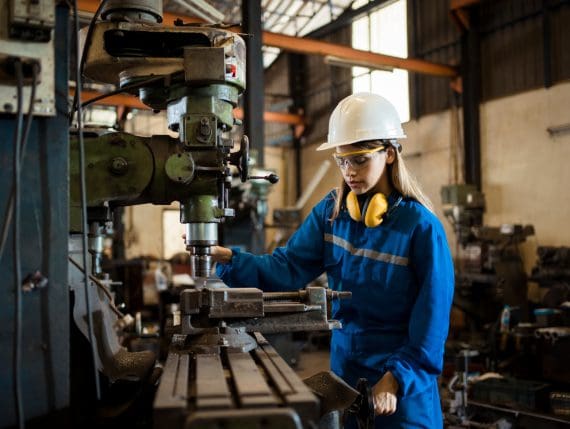 Top Challenges in the Machine Shop Industry
The machine shop industry faces several challenges that can impact business operations. Some of the top challenges include:
Rising costs: The cost of raw materials, labor, and overhead expenses is on the rise, making it challenging to maintain profit margins.

Machine breakdowns: The breakdown of machines, especially when you're on a tight deadline, can result in the loss of contracts or expensive machine repairs.

Equipment and maintenance costs: Machine shops require expensive equipment and regular maintenance to keep everything running smoothly. These costs can take a toll on your cash flow.

Inconsistent payment schedules: Many machine shop customers pay on net-30 or net-60 terms, which can create cash flow gaps as the shop waits for payment.

Demand for faster turnaround times: Sticking to the schedule can be a challenge when clients make last-minute changes to their orders or when machines break down unexpectedly. To reduce delivery time, various factors need to be taken into account, such as design, programming, inventory control, personnel, and automation. However, keeping up with the latest design software can be expensive and may require additional funding that wasn't budgeted for.
Invoice factoring can help machine shops overcome these challenges by providing quick access to working capital, improving cash flow, and providing flexibility in financing.
How to Run a Successful Machine Shop
Running a successful machine shop company requires a lot of hard work, dedication, and attention to detail. Here are a few key points to keep in mind:
Invest in Quality Equipment: Your equipment is the backbone of your business, so investing in quality equipment is vital to ensure that you produce high-quality products and remain competitive.

Keep Your Production Efficient: To keep your production running smoothly and efficiently, it is important to have a good system in place. This includes setting realistic production goals, keeping your equipment well-maintained, and training your employees on best practices. It is also important to stay current with industry trends and technological advancements.

Manage Cash Flow: Cash flow is the lifeblood of any business, so it is important to manage it effectively. Keep track of your expenses, review your financial statements regularly, and consider financing options such as invoice factoring to help maintain a healthy cash flow.
Financing Options for Machine Shops
Machine shops have several financing options to choose from when they need to access working capital. Some of the most common financing options include:
Equipment financing: This financing is specifically designed for purchasing new equipment or upgrading current machines. However, equipment financing often requires a down payment and can have high-interest rates.

Asset-based lending (ABL): ABLs are secured loans that use the machine shop's assets, such as inventory and accounts receivable, as collateral. Although this financing option can be an option for businesses with lower credit scores, ABLs can come with high-interest rates and additional fees.

Merchant cash advances (MCAs): MCAs provide cash upfront in exchange for a percentage of future credit or debit card sales. MCAs can be useful for machine shops that rely heavily on card sales, but they come with high-interest rates and fees.

Invoice factoring: Factoring is an excellent option for machine shops that need quick access to working capital. This alternative funding method involves selling outstanding invoices to a factoring company, which pays the machine shop upfront for their completed work. Factoring companies don't typically require a long credit history or extensive collateral. Instead, they look at the credit worthiness of the machine shop's customers.
If you're looking to improve the financial stability of your machine shop, invoice factoring is one of the best steps you can take. At Invoice Factoring Guide (IFG), we offer industry-specific information that can help your business thrive. Our comprehensive Invoice Factoring Guide is designed to help you find the right factor and maximize your financing options.
We're dedicated to providing you with all the resources you need to find the perfect funding partner. Contact us today for a complimentary rate quote, and let us help you find the best invoice factoring company for your machine shop.
Request a Factoring Rate Quote