Invoice Factoring for Janitorial Companies
Janitorial companies work hard to keep businesses and facilities clean and maintained, but waiting for payment on invoices can cause cash flow gaps. Invoice factoring for janitorial services provides access to the money you have already earned, helping to improve your cash flow and allowing you to meet your financial obligations.
With factoring, you can take on larger projects, pay employees, purchase supplies, and grow your company without the burden of waiting for slow payments from customers.
Janitorial Company Factoring vs. Bank Loans
When it comes to financing options for janitorial companies, bank loans are a common choice. However, invoice factoring may be a better option for those looking for quick access to working capital. Unlike bank loans, invoice factoring does not require a lengthy review process, and there are no strict guidelines to qualify.
With factoring, rather than taking on new debt, you're just getting an advance on money already owed to your business for services you have already provided. There are no monthly payments, it does not accumulate interest, and it is debt-free.
When you sell your invoices to a factoring company, you get a percentage of the total invoice amount advanced to you upfront. The factoring company will then handle collecting payments from your customers while you focus on running your business. Once all of your customers have paid, you will be refunded the remaining balance, less a nominal factoring fee.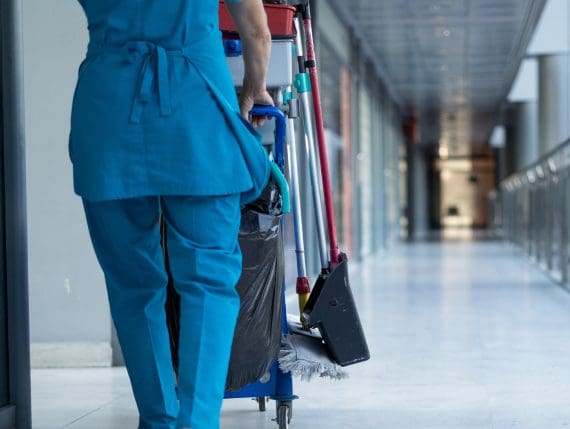 Top Financial Challenges in the Janitorial Industry
As an owner of a janitorial company, you know that your industry comes with unique financial challenges. Here are some of the top financial challenges you may face and how invoice factoring can help:
Rising labor costs: Soft services, such as janitorial and landscaping, have seen significant wage increases and face added pressure from competing sectors with similarly low barriers to entry. This puts pressure on your company to pay competitive wages to retain employees.

Limited access to traditional financing options: Many janitorial companies may struggle to qualify for traditional bank loans due to a lack of collateral or poor credit history. Also, as a service-based company, the lack of a tangible product makes it harder to secure funding.

High employee turnover rates: The janitorial industry is notorious for having high turnover rates, which can lead to increased training costs and lost productivity.

Intense Competition: The janitorial services market is highly competitive. This can result in price wars for contracts, making it difficult to maintain healthy profit margins.
Invoice factoring is a great solution for janitorial companies facing financial challenges. It can help you achieve sustainable growth by providing the funding needed to pay competitive salaries, invest in training, purchase supplies, offer better payment terms to customers, and more. It's easy to qualify for, debt-free, and fast.
How to Run a Successful Janitorial Company
If you're an owner of a janitorial company, you know that running a successful business is no easy feat. So here are some tips on how to run a successful janitorial company:
Create a solid business plan: A well-thought-out business plan is critical to building a successful janitorial company. It should include a mission statement, marketing plan, financial projections, and a growth plan.

Hire and train the best employees: Your employees are the backbone of your business, so it's important to hire reliable, trustworthy, and hardworking individuals. Invest in their training and provide ongoing support and feedback.

Invest in the right equipment: Having the right equipment can make a big difference in the quality of your services and can also increase productivity. So make sure to invest in high-quality cleaning equipment and supplies.

Utilize business management tools: There are many software tools available that can help you manage your business more efficiently, including scheduling software, accounting software, and project management tools.
With factoring, you can access the cash flow you need to cover expenses and grow your business. Plus, factoring companies can also help with AR management and other administrative tasks, giving you more time to focus on running your business.
Financing Options for Janitorial Companies
Janitorial companies are an essential service for schools, hospitals, office buildings, hotels, retail establishments, etc. However, like any other business, they often face financial challenges that affect their operations and growth.
As the owner of a janitorial company, here are some financing options you could consider:
Business credit cards offer quick access to cash, but high-interest rates, annual fees, and late charges can add up. Personal guarantees may be required, and fraudulent charges and overspending are common risks.

Lines of credit are similar to credit cards, allowing you to borrow up to a certain maximum amount determined by your financial institution. You can borrow when you need it, but limits may not always be enough, and missing payments or moving outside the terms of your agreement can result in high fees.

Invoice factoring is a convenient and cost-effective financing option for janitorial companies. It is not a loan, so there are no monthly repayments or high-interest rates. Factoring is easier to obtain than other forms of funding, and it provides quick access to cash based on the value of your unpaid customer invoices. The best part is that you don't have to give up any equity or control in your business to get funded with factoring.
Running a janitorial company can be tough, especially when you're waiting for slow-paying clients to pay their bills. Invoice factoring can help you bridge the gap and keep your business moving forward.
Explore the database of industry-specific factoring companies on our website, or contact our team at Invoice Factoring Guide today for a complimentary rate quote, and we will help you find the right janitorial factoring company for your unique needs.
Request a Factoring Rate Quote