South Carolina Factoring Companies
South Carolina, a state rich in cultural heritage and flourishing with a vibrant economy, offers businesses the opportunity to thrive within its borders. The state's economy prospers not only due to its key industries, such as manufacturing, tourism, agriculture, retail, and real estate, but also thanks to the support provided by local factoring companies. These factoring companies deliver customized accounts receivable financing solutions that empower businesses to maintain a healthy cash flow, mitigate risks, and streamline their operations.
Invoice factoring services are invaluable for various South Carolina businesses, including:
Tourism and hospitality in coastal towns

Agriculture and crop distribution

Boutique retail and specialty shops

Real estate development and management
By taking advantage of factoring services, South Carolina businesses can secure the essential capital needed to grow, adapt, and excel in their competitive markets.
Invoice Factoring Services in South Carolina
Factoring companies in South Carolina offer a range of invoice factoring services designed to meet the diverse needs of businesses operating in the state. These services help businesses unlock cash tied up in unpaid invoices, allowing them to invest in growth and improve their financial stability.
Some of the main types of factoring services provided by South Carolina factoring companies include:
Spot factoring: This one-time service allows businesses to factor a single invoice without a long-term contract, providing a quick cash infusion for pressing financial needs.

Recourse factoring: A cost-effective solution for ongoing factoring needs, recourse factoring comes with lower fees but requires the business to assume the risk of customer non-payment.

Non-recourse factoring: A more expensive but attractive option for businesses seeking to mitigate risk, non-recourse factoring transfers the risk of customer non-payment to the factoring company.
In addition to these factoring services, South Carolina factoring companies also provide valuable support services, such as credit checks to assess the creditworthiness of customers, accounts receivable management to handle invoicing and payment processing, and collections services to help businesses recover payments from customers.
By offering a comprehensive suite of invoice factoring services and support, South Carolina factoring companies enable businesses to manage cash flow effectively while minimizing risk and reducing administrative burden.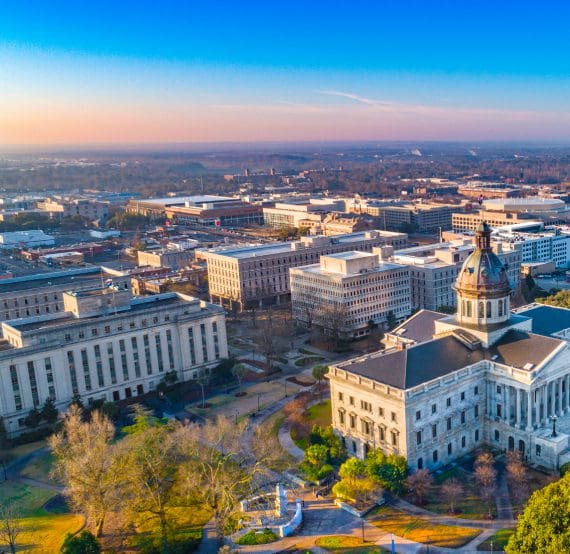 Accounts Receivable Financing in South Carolina
Aside from invoice factoring, businesses in South Carolina can explore a variety of accounts receivable financing options designed to meet their diverse financial requirements. These financing solutions offer different ways to support cash flow and promote business growth.
Some alternative accounts receivable financing options available in South Carolina include:
Invoice discounting: This financing option allows businesses to borrow money against their outstanding invoices while retaining control over collections. Companies receive a percentage of the invoice value upfront and the remaining balance, minus fees, once the customer pays the invoice.

Asset-based lending: Businesses can leverage their assets, such as equipment, inventory, or property, as collateral for loans. Asset-based lending is an excellent solution for companies with tangible assets but weaker credit histories.

Line of credit: A revolving line of credit provides businesses with flexible access to funds, allowing them to draw down and repay as needed. Interest is only charged on the outstanding balance, making it a cost-effective option for managing cash flow fluctuations.
While these accounts receivable financing options can help businesses address their financial needs, invoice factoring is a more flexible and scalable solution, especially for smaller businesses.
Small Business Loans in South Carolina
Factoring is the most adaptable financing option for small business owners in South Carolina, as it offers interest-free, credit-check-free, and collateral-free financing. While traditional bank loans can have high-interest rates and require extensive paperwork, and alternative lenders like online lenders, peer-to-peer platforms, and micro-lenders can offer quick financing, factoring is a more accessible option for small business owners. With its flexibility and ease of access, factoring is a cost-effective alternative to other loan options available to small businesses in South Carolina.
South Carolina's Business Economy
South Carolina's business economy is marked by its resilience and adaptability. While the state's economy is anchored by tourism, manufacturing, and agriculture, it also enjoys growth in sectors such as technology, aerospace, and automotive industries. This diverse economic landscape creates a thriving environment for businesses of all sizes and industries.
Tourism, with its picturesque coastlines and historic cities like Charleston, remains a significant driver of the state's economy. However, South Carolina's commitment to attracting and retaining manufacturing giants like Boeing, BMW, and Michelin has positioned the state as a leader in manufacturing and innovation.
In recent years, South Carolina has placed a strong focus on nurturing a skilled workforce, fostering research and development, and supporting small and medium-sized enterprises. This emphasis on innovation and entrepreneurship has led to the emergence of technology hubs and business incubators, further diversifying the state's economy.
The robust South Carolina business economy provides ample opportunities for companies to grow and succeed. Invoice factoring services offered by local factoring companies play a crucial role in supporting the financial needs of these businesses, enabling them to thrive in the competitive landscape of South Carolina's economy.
Factoring Companies in South Carolina:
Request a free rate quote below, and the Invoice Factoring Guide (IFG) team will help you find the best South Carolina factoring company for your needs.
Request a Factoring Rate Quote