Invoice Factoring for Manufacturing Companies
Do you need to maintain a steady cash flow while waiting for customers to pay their invoices? Are you looking to offer better payment terms to your clients? Then, manufacturing factoring is the solution.
By selling your unpaid invoices to a factoring company, you can receive quick access to working capital without accumulating debt. This allows you to extend more generous payment terms while still having the funds you need to support your operations, purchase inventory, maintain your equipment, pay your staff, and invest in growth. With factoring, you can focus on the core areas of your business without relying on traditional financing methods.
Manufacturing Factoring vs. Bank Loans
Compared to bank loans, invoice factoring is a faster and more flexible financing option, allowing you to sell as many or as few invoices as you need to meet your cash flow needs. With a factoring advance of up to 90% of the invoice value, you can cover expenses and invest in your business while waiting for your customers to pay. Plus, factoring eliminates the time-consuming task of collections, allowing you to focus on core business activities.
Bank loans often require meeting strict eligibility requirements and going through a lengthy approval process, and they also accumulate costly interest. In contrast, factoring comes with a small fee that is generally lower than the interest rates of bank loans and has no hidden fees, making it a more transparent and cost-effective financing option for manufacturing companies.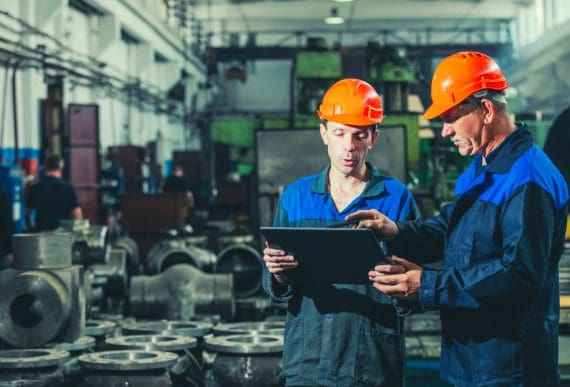 Top Financial Challenges in the Manufacturing Industry
As a manufacturing company owner, you'll likely encounter several financial challenges that can affect your business's profitability. Here are some of the most common financial challenges you might face:
Rising costs of raw materials and energy: The increasing costs of raw materials and energy can cause price hikes that affect your company's profitability and competitiveness. When the raw material costs constantly fluctuate, it also makes cost management more challenging.

Supply chain disruptions: Disruptions in the supply chain can impact production schedules and cash flow.

Managing inventory: Balancing inventory levels to optimize cash flow and profitability can be a challenge, especially while your company is navigating supply chain challenges and demand shifts.

Financing capital equipment purchases: Upgrading or purchasing new equipment can be costly and require financing solutions beyond traditional bank loans.

Allowing customers too much credit: Providing credit terms to customers may put a strain on your cash flow if payments are not received on time.

Global competition: Competing with manufacturers around the world can put pressure on pricing and profitability.

Changing consumer demands: Shifting consumer preferences can make it challenging to forecast demand and adjust production accordingly.

Compliance costs: Meeting regulatory requirements and compliance standards can be costly, especially for smaller manufacturers.
Successfully navigating these challenges can be crucial to the long-term success of your manufacturing business. However, without the necessary capital to make changes or create a savings cushion for your business, overcoming these challenges is a lot more difficult.
How to Run a Successful Manufacturing Company
To succeed in the manufacturing industry, companies must be proactive and agile, which can involve diversifying products, seeking alternative suppliers, and investing in technology. Here are some tips for running a successful manufacturing company:
Focus on lean processes to reduce waste, increase efficiency, and improve quality.

Invest in technology to stay competitive and meet evolving market needs.

Foster a positive company culture to improve productivity and employee retention.

Build strong relationships with suppliers and customers.

Manage cash flow effectively to maintain financial stability.

Investigate financing options, like manufacturing factoring, that can boost your working capital and support your operations with minimal risk.

Invest in employee training and development.

Have a strong leadership team.
Financing Options for Manufacturing Companies
Apart from bank loans, manufacturing companies have several alternative financing options available to them, including:
Asset-based lending (ABL): ABL is a type of financing that uses a company's tangible assets, such as inventory, equipment, property, and accounts receivable, as collateral. This option can provide quick access to funds but may come with higher interest rates and fees, in addition to the fact that you are putting your assets at risk.

Equipment leasing: For businesses that cannot afford to purchase expensive equipment outright, leasing can be a good option. While it can help your business stay up-to-date with the latest technology, its interest rates are notably high, leading to higher costs in the long run. Plus, if you default, it hurts your credit, and you could lose the equipment.

Invoice factoring: As mentioned earlier, invoice factoring can provide quick access to working capital by selling unpaid invoices to a factoring company. This option is flexible, affordable, easily attainable, and debt-free.
When considering your financing options, be sure to weigh the costs and benefits of each option and choose the solution that best meets your needs and goals. Working with a reputable financing partner with experience in the manufacturing industry can also help you make informed decisions and find the right financing solution for your company.
Industry-specific factoring companies will know exactly how to navigate the challenges of the manufacturing and distribution industry, making them better equipped to create customized solutions for your business. At Invoice Factoring Guide (IFG), we aim to help you find the right manufacturing factoring partner for your unique business needs.
Explore and compare industry-specific factoring companies on our website, or if you're ready to jump straight into factoring for manufacturing companies, request a free rate quote!
Request a Factoring Rate Quote