Wisconsin Factoring Companies
Wisconsin, known for its diverse economy and mix of industries, provides an ideal environment for businesses to thrive. However, in this dynamic business environment, companies of all sizes can face cash flow challenges that hinder growth and daily operations. Invoice factoring is an effective solution to address these challenges, providing much-needed liquidity to keep your business running smoothly.
Invoice factoring services are used every day by businesses across Wisconsin, especially in the following industries:
Almost any B2B industry can access factoring, as long as your business has creditworthy clients and a large volume of invoices you would like an advance on. With the right factoring company by your side, you can unlock your business's full potential and maintain a healthy cash flow in the Badger State.
Invoice Factoring Services in Wisconsin
If you have a lot of unpaid invoices and slow-paying customers, invoice factoring is the solution you need. A factoring company will purchase your business's outstanding invoices for a percentage of their value (you can typically get between 80% and 95% cash value for your invoices). The factoring company then collects payment from your customers and remits the remaining balance to you, minus their fees.
Invoice factoring can provide your business with immediate cash flow and help you to avoid taking on debt, but it is important to know your options. For example, spot factoring can be useful for businesses that have occasional cash flow issues but don't need ongoing factoring services. If you choose recourse factoring, it will mean that your business will be responsible for repaying the factoring company, while non-recourse factoring will put the credit risk on the factoring company.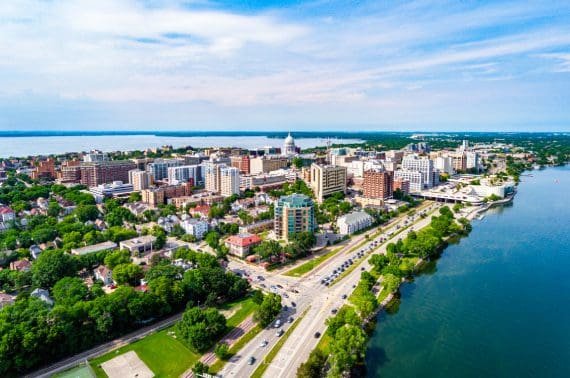 Accounts Receivables Factoring in Wisconsin
If invoice factoring isn't the perfect fit for your business, there are alternative accounts receivable financing options available to B2B businesses in Wisconsin. These can help you maintain a healthy cash flow while staying in control of your finances:
Asset-Based Lending: This financing solution allows businesses to secure a loan or line of credit using their accounts receivable, inventory, or other assets as collateral. This provides flexibility and access to funds without selling your invoices.

Purchase Order Financing: If your business needs to fulfill a large order but lacks the necessary cash flow to purchase raw materials or inventory, purchase order financing can help. With this option, a financing company advances the funds needed to complete the order, allowing you to fulfill customer demands without putting a strain on your cash flow.

Lines of Credit: A business line of credit provides access to a predetermined amount of funds that can be used as needed. Interest is typically only charged on the amount borrowed, and once repaid, the funds become available to use again. This flexible financing option can help businesses manage cash flow fluctuations more effectively.
Though each of these options has its benefits, it's essential to carefully assess your business's unique needs and determine which solution is the best fit for your situation.
Small Business Loans in Wisconsin
Apart from invoice factoring and other accounts receivable financing options, there are several types of small business loans available in Wisconsin. These can help businesses obtain the necessary funds for growth and expansion:
Traditional Bank Loans: Banks and credit unions in Wisconsin offer small business loans with varying terms and interest rates. Securing a loan through a financial institution typically requires good credit and collateral.

SBA Loans: The Small Business Administration (SBA) provides federally-backed loans for small businesses in Wisconsin. These loans offer competitive interest rates and terms, making them an attractive option for many businesses. However, the application process can be lengthy, and not all businesses may qualify.

Merchant Cash Advances: A merchant cash advance provides businesses with an upfront cash payment in exchange for a percentage of future credit card sales. This financing option can be helpful for businesses with fluctuating cash flow, but it usually comes with higher interest rates.
Invoice factoring is not a loan, so it does not add to a business's debt burden. It is based on the business's AR balances, so businesses with less-than-perfect credit may still qualify.
Wisconsin's Business Economy
Wisconsin is a leader in advanced manufacturing, including machinery, food processing, and transportation equipment. It is also home to several large healthcare systems and research institutions. While the state has faced economic challenges in recent years, including job losses and a shrinking middle class, there are also many opportunities for businesses in Wisconsin.
With factoring companies, you can gain the funding you need to grow your business or keep afloat in Wisconsin. Simply browse through our list of factoring companies to find a partner that fits your business needs.
Factoring Companies in Wisconsin:
Eagle Business Credit

Orange Commercial Credit
To be sure you're making an informed decision when choosing a factoring company, read through this Invoice Factoring Guide to learn more about invoice factoring and how to find the ideal factoring partner in Wisconsin.
Request a Factoring Rate Quote