Payroll Factoring: Fast Payroll Funding for Your Businesses
Meeting payroll consistently and on time is essential to running a successful business. It is key in keeping employee morale high, maintaining employee retention rates, and staying compliant with labor laws. But let's face it; cash flow issues can make this challenging, especially if you've extended long payment terms to your clients.
Waiting 30, 60, 90 days, or more for your clients to settle their invoices can significantly slow down your cash flow, preventing you from covering essential expenses crucial to keeping your doors open and your workforce compensated.
Payroll factoring, also known as payroll funding or payroll financing, funding provides your business with quick access to working capital, enhancing your overall cash flow management and ensuring you always have enough cash on hand to cover payroll. This can be especially useful for permanent or temporary staffing agencies with a long list of people needing their salaries or wages.
What is Payroll Factoring, and How Does it Work?
Payroll factoring falls under the umbrella of invoice factoring. It's a financial solution that enables you to sell your outstanding invoices to a third-party (factoring company) at a discount. In exchange, the factoring company provides you with immediate cash, which can then be used to cover payroll expenses and other operational costs.
So, instead of twiddling your thumbs and waiting for clients to pay their invoices, you can access the funds you need to keep your business running smoothly, and your employees paid on time.
Types of Payroll Factoring
There are different types of payroll factoring available to cater to the unique needs of businesses: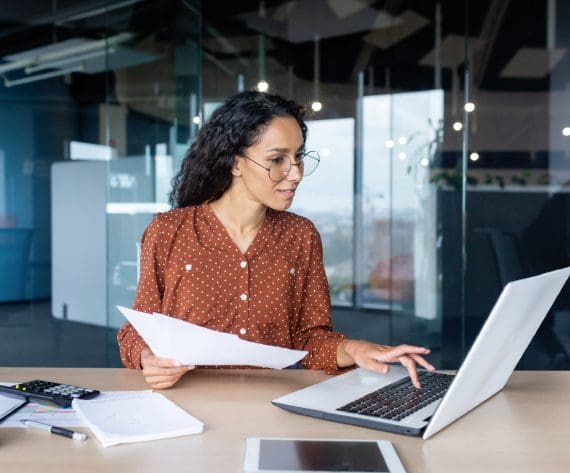 No-Service Factoring: In this type of payroll factoring, the factoring company purchases your invoice(s), but your business retains the responsibility of performing subsequent tasks such as processing the cash, filing it, and directing it towards employee salaries. This option is suitable for businesses that require a payroll funding solution but do not need comprehensive business support.

Full-Service Payroll Factoring: In full-service payroll factoring, your business processes are outsourced to the factoring company, saving your business time and money. This option includes additional responsibilities for the factoring company, such as processing paychecks, filing tax returns, and other business tasks, in addition to turning unpaid invoices into cash.

Payroll Funding Only: This type of payroll factoring focuses solely on providing the funds needed to cover payroll expenses. The factoring company advances you a percentage of your outstanding invoices specifically for payroll purposes while you continue to manage your accounts receivable and collect payments from clients.

Traditional Payroll Factoring: In this arrangement, the factoring company buys your outstanding invoices and provides you with immediate cash. You remain responsible for collecting payments from your clients, and the factoring company charges a fee based on the invoice value and the time it takes for your clients to pay.
Why You Should Use Factoring as Your Go-to Payroll Financing Solution
You've been through the lengthy and capital-intensive process of recruiting top talent, training them to correctly fulfill their roles, and investing in their careers to ensure you retain the best employees to help your business grow. The last thing you need is to lose your valuable employees and have to start the process again (or worse, face legal action) just because you couldn't afford to meet your payroll obligations. Payroll financing through a factoring company is a convenient and debt-free way to ensure you can cover that all-important business expense.
Fast Access to Working Capital
Payroll factoring offers businesses lightning-fast access to working capital, typically within 24 to 48 hours of submitting an invoice to the factoring company. This enables you to meet payroll obligations consistently and on time without the need for traditional loans or lines of credit.
Flexibility
With various types of payroll factoring available, you can pick the best option to suit your needs. Options include traditional payroll funding, no-service payroll funding, payroll funding only, and full-service payroll funding. It's like a buffet of financing solutions for your unique situation!
Simplified Payroll Process
By partnering with a factoring company, you can streamline your payroll process, as the factoring company takes care of invoice collection and management, among other back-office financial responsibilities. This way, you can focus on growing your business instead of juggling accounts receivable.
Professional Management of Accounts
Factoring companies are experts in managing accounts receivable. You can benefit from their professional knowledge and experience by outsourcing this responsibility. This ensures that invoices are collected efficiently and with minimal hassle.
Enhanced Cash Flow
Payroll factoring provides your business with a reliable and steady cash flow, which is crucial for maintaining smooth operations and meeting financial obligations. By eliminating the wait for clients to pay their invoices, you can better manage your cash flow and invest in exciting growth opportunities.
If you're the owner of a staffing agency, small business, or even a fully established company, and you need help covering your payroll costs, finding the right factoring company is the next best step you can take. Plus, you can use factoring for much more than just covering your payroll. Discover the benefits of factoring and more about the process in this Factoring Guide.
When you're ready to boost your cash flow through reliable payroll funding, request a free rate quote below. One of our dedicated team members at Invoice Factoring Guide (IFG) will be in touch to help you find the best payroll factoring company for your needs.
Request a Factoring Rate Quote