Mobile Applications: Your Key to Smarter Invoice Factoring
In a society dominated by technology, mobile apps have become an almost unnoticeable part of our daily lives, used for everything from keeping up with our friends and the news to ordering food and paying our bills.
In the business world, mobile apps are used for streamlining processes, cutting costs, and improving operations. In short, mobile applications are game-changers, helping you easily manage your services, including those offered by invoice factoring companies. These apps keep you in the loop with your account information and provide additional features to simplify your factoring experience.
Unlocking the Power of Mobile Apps for Factoring Companies
Invoice factoring mobile apps can make the entire process more efficient, streamlined, and user-friendly for your business.
On-the-Go Account Management
With a factoring company's mobile app, you can access your account information anytime, anywhere. Review invoice and payment details, monitor transactions, and even adjust your funding from your smartphone, tablet, or computer.
Safe and Secure Online Payments
Mobile apps ensure your online payments are secure, ditching manual check processing while minimizing the risk of fraud or errors.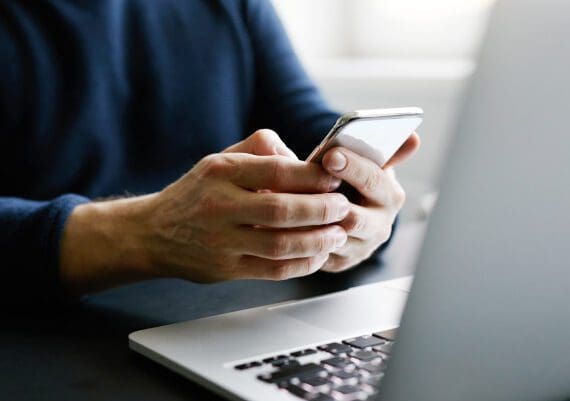 Stay in the Know with Real-Time Updates
Partnering with a factoring company that offers a mobile app means you'll receive instant updates on your invoices, empowering you to make timely financial decisions.
Customer Support through Mobile Apps
Invoice factoring mobile apps offer more than just account management. They provide an additional channel for customer support, allowing you to submit inquiries, request assistance, or report issues directly through the app for prompt and efficient help.
Efficient Document Management
Easily capture, format, store, and access vital documents like invoices, contracts, or financial records. Auto invoice creation features allow you to create and submit invoices on the go, saving you precious time.
Reporting and Analytics Features
Harness the power of data with reporting and analytics features in factoring mobile apps. Monitor key metrics like outstanding invoices, cash flow, and payment patterns to optimize your financial management.
Multi-Language Support and Global Compatibility
Expand your business globally with invoice factoring mobile apps that offer multi-language support and compatibility. Seamlessly communicate and transact with international customers, tapping into new markets without language barriers.
Time-Saving Automation and Notifications
Stay on top of your finances with time-saving automation and notifications. Create custom alerts for due dates, payment confirmations, or customer credit rating changes. Automations like recurring invoicing and scheduled payments free up more time for your core business operations.
Seamless Communication
Improve communication with your factoring company by using the mobile app for messaging and receiving notifications. Streamline the factoring process and enhance your overall experience.
Going the Extra Mile: Additional Benefits of Factoring Company Mobile Apps
Factoring mobile apps offer even more advantages:
Trucking companies can view their load history in one place, add or edit loads, provide delivery updates, and use Google Maps for navigation.

You can use your factoring app to perform credit checks on potential customers before doing business with them.

Secure logins protect your sensitive information.

You can even get funded faster through your factoring mobile app with instant invoice submissions.
You can use these apps to manage your factoring account and ensure you get paid more quickly and efficiently for your services. Learn more about the cost and time-saving benefits a factoring company can offer in this Factoring Guide.
It's important to note that not all factoring companies will offer mobile apps, and those that do may not offer all of the same features. This is where thorough research is vital to ensuring that your factoring relationship is as beneficial as possible for your business.
If you're struggling to find a factoring company offering a mobile app with all the features you need, contact the Invoice Factoring Guide (IFG) team. We have all the necessary resources at our disposal to match you with the best factoring company for your needs. Request a free rate quote today!
Request a Factoring Rate Quote