Invoice Factoring for Construction Companies
Scheduling conflicts, logistics, inclement weather, and a million other things can stop your projects in their tracks. Funding for supplies and subcontractors should never be one of them. That's where invoice factoring for construction companies helps. Instead of waiting for approval on the next milestone or project completion, invoice factoring puts cash in your hands now, so your projects stay on schedule, and teams are happier.
How Construction Factoring Works
Construction contracts usually pay out by the milestone or at the end of the project. Unfortunately, this means contractors and subcontractors often pour their own cash into a project, or the project is delayed waiting for disbursement.
With invoice factoring, your construction company receives upfront cash that you can put toward anything you need, so projects run smoother. Some invoice factoring companies will even make it easy to advance payment to subcontractors of your choosing too. That way, you stay in control of your project, and your most trusted subcontractors can purchase supplies as needed. Plus, you'll build stronger relationships with your most trusted subcontractors in the process.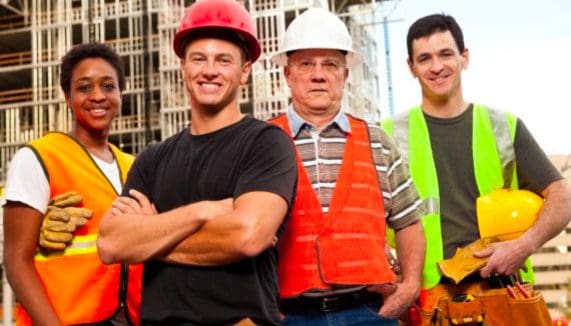 Benefits of Invoice Factoring for Construction Companies
Invoice factoring is not just another funding solution. Working with a factoring company can help strengthen your business from the inside out. A few benefits of invoice factoring for construction companies include:
Flexibility: You choose when to factor and how to spend the cash.

Working Capital Maximization: Advance payments to your subcontractors without taking any money out of your pocket.

Improved Project Management: No more falling behind because subcontractors needed cash for supplies.

Stronger Subcontractor Relationships: Eliminate the guesswork in paydays and keep your trusted subcontractors happier so they continue to deliver outstanding results project after project.
How Construction Companies Use Factoring
You're in control of how you spend your cash. A few ways businesses like yours apply their accelerated cash flow include:
Legal Requirements:

Use your advance to meet

insurance

, licensing, and bonding requirements.

Payroll: Take care of your in-house team, even if clients don't pay when expected.

Equipment and Supplies:

Purchase equipment and supplies for your current project or items your business needs to grow.

Maintenance: Keep your equipment in site-ready condition.

Paying Subcontractors:

Pay your subcontractors some or all of what they're due, even if the client payment is delayed.

Growth: Accept the next project before your current one pays out or invest in growth initiatives, like marketing.
Types of Subcontractors Construction Companies Pay with Invoice Factoring
Invoice factoring companies can help you pay most subcontractors, including:
Carpenters

Concrete

Demolition

Doors and Windows

Drywaller
Electricians

Framing

HVAC

Landscapers

Masons
Painters

Plumbers

Roofers

And More
Bank Loans vs. Invoice Factoring for Construction Companies
Subcontractors attempting to secure their own funding can halt a project. It's up to the general contractor to keep things moving forward. While you may be able to qualify for a traditional loan, line of credit, equipment financing, or SBA loan, these options are typically reserved for well-established businesses with top-tier credit. Plus, you may have to use your personal assets as collateral.
Improving Construction Cash Flow for Project Success
In the construction business, financial fluidity is important for timely project completion and to undertake larger jobs. Among the myriad of funding options, construction factoring emerges as a beacon of hope for many general contractors and small contracting firms. Unlike a traditional bank loan, factoring construction invoices simplifies the process of acquiring needed funds, making it an easy way to get the funding you need. Best construction factoring companies offer a straightforward factoring program, where construction receivables are sold to a third-party company, transforming outstanding invoices into immediate cash, usually within 24 hours.
Construction factoring companies assess the credit check of the clients, not the construction firm, a relief for business owners whose construction companies face credit challenges. This method of factoring may come with a factoring fee, but the advance rate provided often outweighs the cost, especially when funding is essential to start a new project or pay construction subcontractors. The factoring construction mechanism is simple: apply for construction factoring, choose which invoices to factor, get a cash advance minus a small fee, and allow the factoring companies to find the best resolution for getting customers to pay their invoices.
The versatility of construction factoring extends beyond mere funding. It's a pathway to business growth and maintaining a positive business cash flow, especially when engaging in commercial construction. Factoring allows for an influx of cash without waiting for customers to pay, and the factoring solutions provided are tailored to meet the business needs of the modern construction site. Whether it's resource factoring or single invoice factoring, the ultimate goal remains the same: to provide construction firms the financial backing to take on new jobs, build robust construction project portfolios, and grow their business. Through factoring, many construction companies have found that factoring is a great way to maintain operations, pay construction subcontractors, and get paid faster for completed work, ensuring business development continues unhindered.
Construction Invoice Factoring Works Differently
Invoice factoring works differently than other funding solutions like bank loans and lines of credit. A few things that make it distinct include:
 

Easy Qualify:

Construction factoring primarily relies on your client's creditworthiness, so getting approved is easier.

Fast Approval: Because factoring is not a loan, there's less red tape to cut through, and you can be approved in as little as a day.

Instant Funding: You don't need to wait weeks or months like you would for a loan. You can have cash in hand as soon as the day you submit your invoice.

No Debt: The balance is cleared when your client pays their bill, so there's nothing to pay back, and your business is always moving forward.

Greater Flexibility: You control which projects you request advances on. Accelerate payment on all of them or just as needed.
You May Qualify for Additional Services
Each factoring company offers a unique set of value-added services. Depending on the one you choose, you may be able to receive:
Client Credit Checks:

Know the creditworthiness of your clients before you accept work and make informed decisions about the projects you take on.

Collections Services: Eliminate tedious back-office processes and focus on your business while delighting your clients with streamlined and convenient payment options.
Tap into Additional Construction Funding Solutions as Needed
Invoice factoring is ideal in many situations, but as your business grows and needs change, other types of funding may suit your needs better. Many construction factoring companies offer additional funding solutions to meet your changing needs, such as:
Get a Free Construction Factoring Quote
Request a Factoring Rate Quote