Illinois Factoring Companies
No matter what industry your business is in, you are not exempt from cash flow issues. Luckily, several Illinois factoring companies are fully equipped to help boost your working capital and take your business operations to the next level.
Whether you need to cover employee wages, purchase inventory, or take on a new project, factoring companies in Illinois can help you access the working capital you need to grow your business.
Some of the industries that can benefit from selling their invoices to a factoring company in Illinois include:
Renewable energy

Telecommunications

Professional services

Agriculture

Food processing.
Invoice Factoring Services in Illinois
Have you ever needed to turn down work because you don't have the funds to complete the project, and when you tried to get funding from traditional lenders, they turned you away? Use the services of an Illinois factoring company!
By selling your creditworthy customers' invoices to a factoring company, you'll receive a significant portion of the invoice value in cash, enabling you to accept new projects and cover any related expenses. The factoring company will handle the necessary arrangements with your debtor, and once the invoice is paid, they'll deduct a small fee and pay the remaining balance back to you. Let's take a look at the types of factoring services available in Illinois: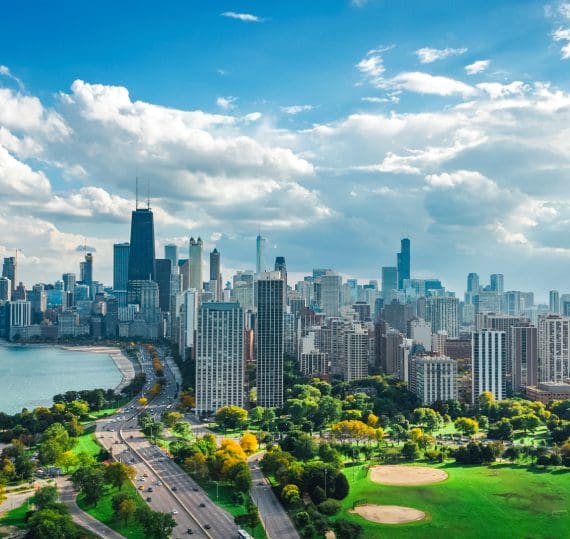 Accounts Receivable Financing in Illinois
There are several types of accounts receivable financing available to Illinois businesses other than factoring, including accounts receivable loans and asset-based financing. With accounts receivable loans, you keep control of your invoices, but they serve as collateral to secure some much-needed funds from a lender. Just remember, you're still on the hook for collecting payments from your clients, and because this option is a loan, you will need to repay the lender once your clients have paid you.
On the other hand, asset-based financing allows you to use a variety of assets, such as invoices, equipment, property, or inventory, as collateral to get financing. Keep in mind that lenders typically prefer assets that can quickly be converted to cash, like securities, in case things don't go as planned. The interest rates for asset-based lending are usually quite high, and if you default on your payments, you risk losing your assets.
Small Business Loans in Illinois
The Illinois Department of Commerce & Economic Opportunity offers various low-interest loan programs in support of small businesses. These include Advantage Illinois, which provides funds for start-up costs, working capital, equipment, and inventory. Are you interested in the cannabis industry? The Cannabis Loan Program supports social equity applicants to obtain the required capital to operate a dispensary, craft, grow, or be a transporter business in the industry. You can also apply for a U.S. Small Business Administration (SBA) loan if you are eligible.
Are you a small business serving one of the many industries in Illinois? Did you know you can use invoice factoring as an alternative to traditional loans? When you have quality customers that always pay on time, you can sell their invoices to factoring companies in Illinois for quick cash. Your customers will be treated with respect during the factoring transaction, as it is to everyone's benefit.
Illinois Business Economy
From food-related businesses like Kellogg Co.'s snack division and Mondelez International, Inc. (the makers of Oreo cookies), to the largest drugstore chain in the country (Walgreens), Illinois is a hub for a variety of thriving industries.
Although food processing and agribusiness contribute to the Illinois economy, industries such as advanced manufacturing, electric vehicles, alternative energy, financial services, life sciences, transportation, distribution, and logistics are also actively contributing to its growth. Did you know Illinois is home to three of the five publicly traded cannabis companies in the U.S.? With its low corporate and personal income tax, low commercial energy rates, and tax-free personal property, many companies choose to do business in Illinois.
There is a factoring company ready to serve each of these Illinois businesses and industries, whether based in Chicago or elsewhere in the state. Sell your customer invoices to one of the many Illinois factoring companies eager to partner with you for convenient access to cash.
Factoring companies in Illinois:
Have you been reading up on factoring companies in Illinois? Read through this Invoice Factoring Guide to learn more about invoice factoring and how to find the ideal factoring partner in Illinois.
If you need extra help finding the best Illinois factoring company, simply contact the Invoice Factoring Guide (IFG) team, and we will do all the research for you. Request a free rate quote and we will connect you with the best factoring company for your Illinois business!
Request a Factoring Rate Quote