Mississippi Factoring Companies
Mississippi, with its rich history and culture, offers a unique landscape for businesses to thrive. The state boasts attractions such as the Vicksburg National Military Park and the Gulf Islands National Seashore. The economy of Mississippi is powered by key industries, and factoring companies operating within the state play a vital role in sustaining and promoting growth for businesses. These factoring companies help companies, especially those heavily reliant on cash flow, to maintain financial stability and grow their operations.
Industries, such as the following, often turn to factoring services in Mississippi to support their financial needs:
Healthcare

Aerospace

Construction
Companies in these sectors tend to face extended payment cycles, as they usually need to complete projects before receiving payment. By utilizing factoring services, these businesses can maintain cash flow throughout these periods.
Invoice Factoring Services in Mississippi
Factoring companies in Mississippi offer a range of invoice factoring services to businesses of various sizes. Invoice factoring is a financing solution where your business sells its outstanding invoices to a factoring company, which then provides you with a cash advance. This allows you to access funds quickly, bridging any cash flow gaps.
Different types of invoice factoring services available in Mississippi include:
Spot factoring services: Spot factoring allows you to sell individual invoices to a factoring company rather than your entire portfolio of outstanding invoices. This type of factoring is beneficial for companies that may not require ongoing factoring services but occasionally need assistance with cash flow.

Recourse factoring services: With recourse factoring, you take responsibility for any unpaid invoices. In other words, if a customer fails to pay an invoice, you must repurchase it from the factoring company.

Non-recourse factoring services: Non-recourse factoring shifts the responsibility for unpaid invoices to the factoring company. In this arrangement, if a customer doesn't pay an invoice, the factoring company absorbs the loss, and you won't have to repurchase the invoice. This option provides you with greater financial security, although it may come at a higher cost.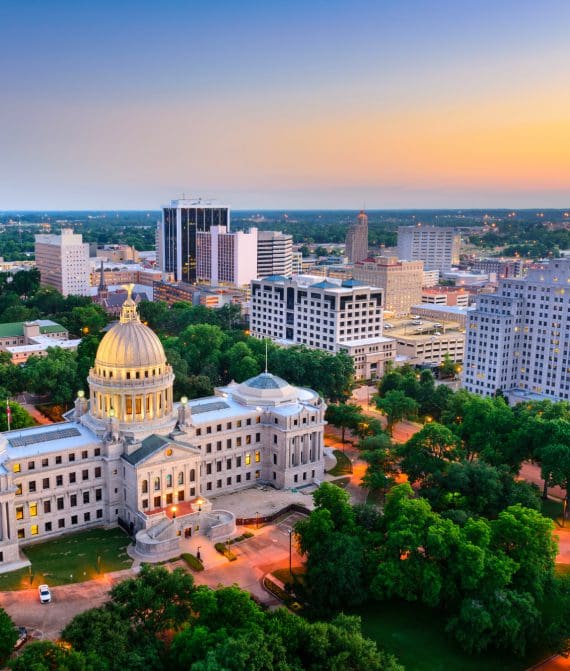 Accounts Receivable Financing in Mississippi
Accounts receivable financing encompasses a variety of financing options that use your outstanding invoices or accounts receivable as collateral. In addition to invoice factoring, other types of accounts receivable financing include invoice discounting and asset-based lending (ABL). While these alternatives may provide cash flow solutions, factoring often proves to be a more advantageous choice.
Invoice discounting: Invoice discounting is a form of accounts receivable financing where a lender provides a cash advance based on your outstanding invoices. However, unlike factoring, your business remains responsible for collecting invoice payments from your customers. While this option may offer more control over the collection process, it also requires more time and effort from you to manage collections.

Asset-based lending (ABL): ABL is a financing option where your business uses its assets, such as inventory, equipment, or accounts receivable, as collateral to secure a loan. While ABL may provide larger loans for businesses with substantial assets, it may also entail higher interest rates and additional fees compared to invoice factoring.
Factoring, on the other hand, offers several advantages over other types of accounts receivable financing. With factoring, you receive immediate cash flow, allowing you to cover expenses and seize growth opportunities. Factoring services are also easier to qualify for than other financing options, making it an attractive choice for businesses with poor credit or limited financial history. Furthermore, factoring companies typically handle the collection process, saving you time and effort while minimizing the risk of non-payment.
Small Business Loans in Mississippi
There are small business loans available in Mississippi. Many banks and lenders in the state offer a variety of loans, including SBA loans, term loans, and lines of credit. Small business owners in Mississippi can also access loans through online lenders.
Invoice factoring can be a better option than small business loans as it comes without the lengthy application process and credit checks required for loans. Factoring companies assume the risk of non-payment, so businesses do not have to worry about bad debt.
Mississippi's Business Economy
Mississippi's business economy is diverse and growing. The state has a favorable business climate, with low taxes and a skilled workforce. Mississippi is home to several major employers, including Nissan North America, Ingalls Shipbuilding, and the University of Mississippi Medical Center.
The state's economy is expected to continue to grow in the coming years, with significant investments in industries such as healthcare, technology, and manufacturing. With its strategic location, excellent factoring companies, and strong infrastructure, Mississippi is an excellent place for businesses to thrive.
Factoring Companies in Mississippi:
To be sure you're making an informed decision when choosing a factoring company, read through this Invoice Factoring Guide to learn more about invoice factoring and how to find the ideal factoring partner in Mississippi.
If you're looking for the best factoring company near you, contact the Invoice Factoring Guide (IFG) team today, and we will find the best Mississippi factoring company for your needs!
Request a Factoring Rate Quote