Invoice Factoring for Food Manufacturing Companies
Running a successful food manufacturing or distribution company is no piece of cake. But, when you partner with an invoice factoring company, you can give your business a much-needed working capital boost.
Factoring for food manufacturing and distribution provides a practical alternative financing option to help you manage your cash flow better and overcome the challenges unique to this industry.
Food & Beverage Factoring vs. Bank Loans
It's crucial to weigh the pros and cons of various financing options for your food manufacturing or distribution business. Here's a comparison between invoice factoring and bank loans:
Approval Process: Invoice factoring services usually have a faster approval process compared to bank loans. This means you can get access to funding quicker, keeping your business operations cooking.

Credit Score: Invoice factoring zeroes in on your clients' creditworthiness rather than your credit score, making it a go-to option for businesses with a less-than-stellar credit history.

Flexibility: Factoring for food manufacturing and distribution offers a substantial amount of flexibility because the funding amount is tied to your invoice volume, not a rigid limit set by the bank.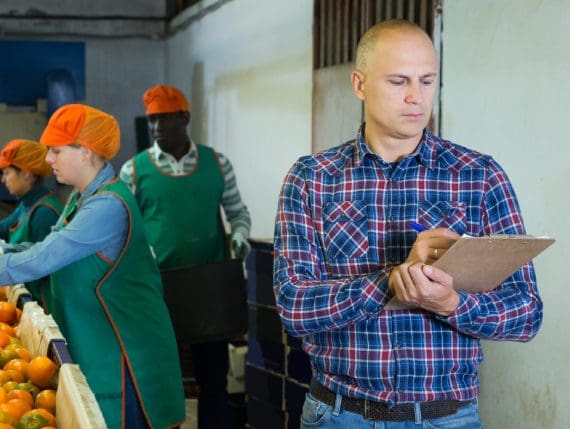 Top Financial Challenges in the Food Manufacturing Industry
Navigating the food manufacturing and distribution industry can feel like walking on eggshells. Thankfully, invoice factoring services offer a lifeline to boost your business and help you sail through the unique challenges of this industry, some of which include:
Cash flow conundrum: Slow payments from clients can throw a wrench into your cash flow, hampering your ability to invest in equipment or maintain operations.

Dog-eat-dog competition: The food industry is a battleground, making it crucial to set your business apart and stay ahead. Without the working capital to reinvest in your business, developing a competitive edge can be a huge challenge.

Regulatory hurdles: Food manufacturing and distribution companies must leap over strict food safety regulations to ensure their products are top-notch.

Inventory management maze: Juggling inventory in the food industry is tricky due to perishability and fluctuating demand, making it a persistent challenge.

eCommerce whirlwind: The rise of online sales channels has intensified competition and shifted consumer expectations, demanding businesses to adapt their strategies and distribution techniques.

Supply issues rollercoaster: Volatility in the availability and cost of raw materials can wreak havoc, requiring businesses to devise flexible supply chain strategies to weather potential disruptions.
How to Run a Successful Food Manufacturing Company
To whip up a prosperous food manufacturing and distribution company, chew on these tips:
Invest in cutting-edge manufacturing equipment to ramp up efficiency and stay ahead of the pack.

Keep an eye on your actual food cost percentage to ensure profitability.

Sweeten the deal with payment discounts for clients who pay quickly, improving your cash flow.

Stay on top of industry trends to ensure you adapt and innovate.
Financing Options for Food Manufacturing Companies
A variety of financing options awaits food manufacturing and distribution businesses:
Bank loans: One of the more conventional financing options, but it often demands good credit scores and can be tough to secure.

Equipment leasing: You can lease state-of-the-art manufacturing equipment to dodge hefty upfront costs. You can use the equipment you need for a set period with monthly repayments. In some cases, you may even be able to purchase the equipment at the end of the term. However, if you miss your payments or cannot pay the interest, you risk losing the equipment and damaging your credit.

Business lines of credit: A versatile financing option that can cater to a wide range of purposes. This financing option allows you to borrow a certain amount of money (with a preapproved limit), and you will be charged interest on the amount you use (similar to a credit card). However, the repayments and interest can quickly become too much to keep up with.

Invoice Factoring: A game-changing alternative financing option that offers immediate cash advances on outstanding invoices, helping you manage cash flow like a pro and tackle industry-specific challenges. With rapid approval, flexible funding, and a focus on client creditworthiness, invoice factoring emerges as the winning choice for food manufacturing and distribution companies.
Factoring for the food and beverage industry is a fantastic alternative financing option that'll revolutionize your cash flow management. Unlock the funds tied up in your unpaid accounts receivable and watch your business soar to new heights.
If you're looking for a factoring company that understands your industry and will work with you to solve your cash flow problems, contact Invoice Factoring Guide (IFG). Request a rate quote, and we will find the best factoring company for your business needs.
Request a Factoring Rate Quote