In the bustling state of Ohio, a flourishing economy creates a fertile ground for businesses to grow and prosper. The state's rich industrial heritage, combined with its burgeoning tech and healthcare sectors, make it a land of opportunity for entrepreneurs and established businesses alike. Home to numerous Fortune 500 companies like Procter & Gamble and Fifth Third Bank, Ohio has a well-earned reputation for fostering growth and success.
Industries such as transportation, manufacturing, staffing, and construction are growing rapidly, and invoice factoring in Ohio can be the secret ingredient to unlocking their full potential. By providing fast access to working capital, factoring companies help Ohio businesses navigate cash flow challenges and seize opportunities with confidence.
Invoice Factoring Services in Ohio
Invoice factoring is a type of financing that allows businesses to sell their accounts receivable to a factoring company for a fee. In Ohio, there are many invoice factoring companies that can help businesses improve their cash flow by providing fast access to cash.
With factoring, you can either enter into a recourse factoring agreement (where your business is responsible for repaying the factoring company or replacing the invoice if a customer defaults) or non-recourse factoring (where the factoring company assumes the full credit risk of non-paying customers).
You don't have to commit your entire invoice portfolio, either. An alternative to whole ledger invoice factoring is spot factoring, which allows businesses to sell individual invoices to a factoring company. This is convenient if you need cash quickly to get started on a project, for example, but don't want to commit to a long-term factoring agreement.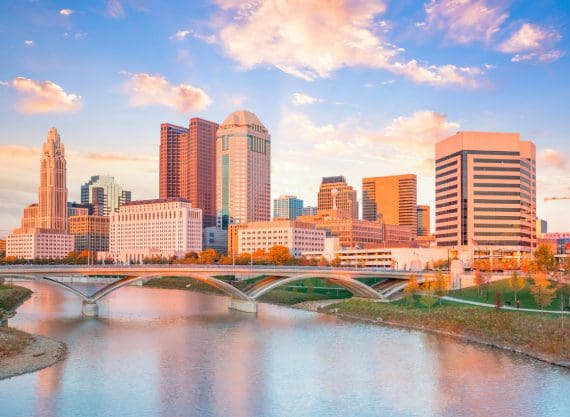 Accounts Receivables Factoring in Ohio
Factoring your accounts receivable is not the only way to obtain fast funding in Ohio – there are a number of alternative methods you can choose and some of them can even be obtained through factoring companies as well. You will just need to consider the pros and cons of each financing option to see which one best suits your needs and budget.
Here are some alternatives that can help your business maintain a healthy cash flow:
Asset-Based Lending: Instead of selling your invoices, your business can use its assets as collateral for a loan. This option provides funds based on the value of your company's assets, such as inventory, equipment, or real estate.

Equipment Financing: BYour business can finance the purchase or lease of essential equipment through equipment financing. This option allows your company to spread the cost of equipment over time, preserving cash flow for other operational expenses.

Invoice Discounting: Similar to invoice factoring, invoice discounting allows your business to access cash from unpaid invoices. However, with invoice discounting, the advance is paid out as a loan. So, once your customers have paid you, you'll need to pay the factoring company back, including any fees and interest.

Lines of Credit: Similar to a credit card, a business line of credit allows your company to draw funds as needed, up to a predetermined limit. Interest is charged only on the amount drawn, offering flexibility in managing cash flow.
Despite the availability of these alternatives, invoice factoring often remains the preferred choice due to its quick approval process, minimal credit requirements, and ability to provide businesses with immediate access to cash.
Small Business Loans in Ohio
You can receive small business loans available in Ohio, including SBA loans, traditional bank loans, and alternative financing options. However, these loans can be difficult to qualify for and may require collateral or a strong credit history. Invoice factoring can provide cash quickly without collateral or strong credit history, making it easier for businesses to qualify for financing.
Ohio's Business Economy
Ohio has a strong and diverse business economy, with many thriving industries and opportunities for growth. However, managing cash flow can be a challenge for businesses in any industry, and factoring companies can provide a valuable solution. By using factoring services, businesses in Ohio can access the cash they need to operate and grow their businesses.
If you're a business owner in Ohio looking to improve your cash flow and take your business to the next level, consider working with a factoring company to explore your financing options.
Factoring Companies in Ohio:
Orange Commercial Credit

Eagle Business Credit

Capital Quotes, LLC.
To be sure you're making an informed decision when choosing a factoring company, read through this Invoice Factoring Guide to learn more about invoice factoring and how to find the ideal factoring partner in Ohio.
If you're looking for the best factoring company near you, contact the Invoice Factoring Guide (IFG) team today, and we will find the best Ohio factoring company for your needs!
Request a Factoring Rate Quote