Virginia Factoring Companies
Virginia, one of the original 13 colonies, is a state rich in history and natural beauty. From the settlement of Jamestown in the early 17th century to its crucial role in the formation of the United States, Virginia has a continuous and long history that has helped shape the country.
Today, Virginia is among the most prosperous states in the South, known for its thriving businesses across a wide range of industries.
Although it's widely recognized for its natural beauty and rich history, Virginia's factoring companies are making an impact by providing financial services to businesses across a variety of sectors.
While agriculture and manufacturing are two of the biggest industries in Virginia, factoring companies also serve businesses in industries such as transportation, healthcare, and staffing. And if your business has longer payment terms or seasonal fluctuations in cash flow, factoring companies can help you manage your finances, no matter your industry.
Don't see your business on the list? Any business that has accounts receivable can benefit from factoring services. If your business has longer payment terms or seasonal fluctuations in cash flow, factoring companies are the best choice to help you manage your finances.
Invoice Factoring Services in Virginia
Invoice factoring is the most common type of accounts receivable financing in Virginia. It involves a business selling its outstanding invoices to a factoring company in exchange for immediate cash. However, you don't need to sell your full invoice portfolio to the factor. Spot factoring allows you to sell individual invoices, so you can get funding as you need it, without committing to a long-term contract.
There are two primary types of factoring. With recourse factoring, your business will have to buy back invoices from the factoring company if your clients do not pay their invoices. With non-recourse factoring, however, if one of your customers doesn't pay their invoice, the factoring company accepts the loss.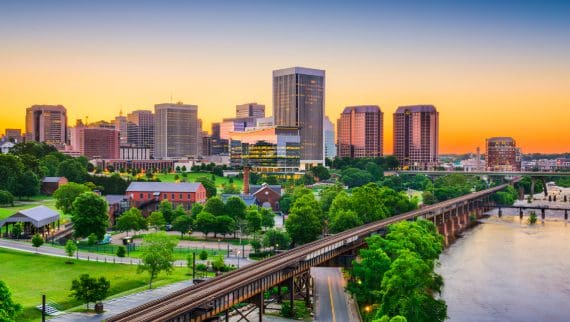 Accounts Receivables Factoring in Virginia
If you're not looking to sell your invoices or if you need additional financing on top of factoring, there are other financing options that you can consider. Some of these options are provided by factoring companies so that you can use them alongside your regular factoring arrangement. Here are some alternative factoring solutions to consider in Virginia if you're looking for financing options beyond traditional invoice factoring:
Purchase order financing: This option provides funding to cover the expenses associated with fulfilling large purchase orders. The financier provides the necessary funds to purchase materials and labor required to complete the order and subsequently collects payment from the customer once the order is fulfilled.

Equipment financing: This option allows businesses to purchase equipment by borrowing funds from a lender. Usually, monthly payments are made over a specific period until the loan is fully paid off. Keep in mind that the purchased equipment serves as collateral for the loan, so the lender has the right to repossess the equipment in case of default.

Supply chain financing: This financing option involves a lender providing funds to assist businesses in paying their suppliers. The lender makes direct payments to the suppliers, with businesses repaying the lender over an agreed-upon time period. This option is particularly useful for small businesses that require swift supplier payments but have limited available funds.
Small Business Loans in Virginia
The Virginia Small Business Financing Authority (VSBFA) offers a variety of loan programs to businesses, including microloans, revolving loans, and capital access program loans. However, these loans can be difficult to qualify for and often require extensive paperwork and collateral.
Invoice factoring is often a better option for businesses than small business loans because it's easier to qualify for, has a quicker approval process, and doesn't require collateral. Invoice factoring also allows businesses to access immediate cash flow, which can help them manage their finances and grow their business.
Virginia's Business Economy
Virginia's business economy is diverse and thriving. Major industries in Virginia include technology, defense, and healthcare. Northern Virginia, particularly, is home to several technology companies, including Amazon Web Services, Microsoft, and Google. The state is also home to several military installations, including the Pentagon and Naval Station Norfolk.
The state also has tax incentives, grants, and factoring services for businesses to encourage growth and development. Virginia also has a highly skilled workforce, with a strong education system and access to top-tier universities.
Whether you're in manufacturing, transportation, healthcare, or staffing, factoring companies in Virginia can help you achieve your business goals. Find factoring companies below with various financing options to help your business to grow.
Factoring Companies in Virginia:
The Southern Bank Company
To be sure you're making an informed decision when choosing a factoring company, read through this Invoice Factoring Guide to learn more about invoice factoring and how to find the ideal factoring partner in Virginia.
Request a Factoring Rate Quote