New Hampshire Factoring Companies
New Hampshire, a picturesque state known for its natural beauty, low taxes, and robust economy, is an ideal location for businesses seeking growth. Factoring companies play a pivotal role in supporting New Hampshire's vibrant economy by providing much-needed financial assistance to various industries.
Factoring companies in New Hampshire offer their services to a wide range of industries, such as:
Healthcare

Financial Services
By working with a factoring company, businesses in these sectors can access the funding they need to maintain smooth operations, pay employees, and thrive in New Hampshire's competitive market.
Invoice Factoring Services in New Hampshire
Invoice factoring is a form of financing that allows you to sell your unpaid invoices to a third party, who then pays you a percentage of the invoice value immediately (usually between 80% and 90%). The factoring company will then collect payments from your customers, and once all of your accounts receivables have been settled, the factor will refund you the remaining balance minus their fee. This can be done in one of two ways, depending on your budget, preferences, and which factoring company you choose:
Non-recourse Factoring: Invoice factoring without recourse means the factoring company assumes the risk of non-payment from your customers. In this arrangement, if a customer fails to pay, you are not responsible for covering the unpaid balance. Non-recourse factoring provides fast access to capital and immediate cash flow, but it typically comes with higher fees due to the increased risk for the factoring company.

Recourse Factoring: Recourse factoring requires the seller to assume responsibility if the factoring company cannot collect payment from a customer. In this scenario, if there are any issues with collecting on an account due to bad credit history or other factors beyond just payment problems (such as late fees), you are responsible for covering the unpaid balance. Recourse factoring generally offers lower fees compared to non-recourse factoring, but it places more risk on the seller.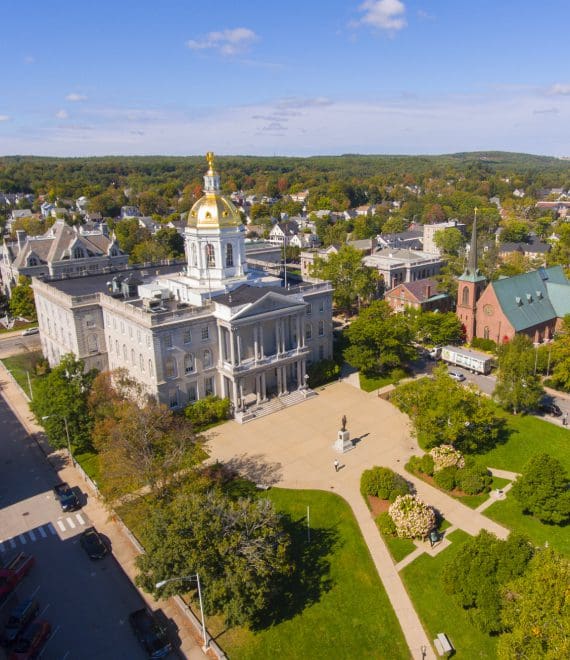 Depending on which factoring company you choose and the industry your business operates in, there are additional services offered by factoring companies to further improve your cash flow:
Accounts Receivables Factoring in New Hampshire
While accounts receivable factoring is a popular financing option for businesses in New Hampshire, some factoring companies also offer alternative financing solutions. These additional options can cater to the unique needs of various businesses. Here are some alternative financing options that you might find with some factoring companies:
While these alternative financing options might be suitable for some businesses, factoring remains an attractive solution for many others. Factoring offers faster funding, flexible terms, and improved cash flow management compared to traditional loans or other financing alternatives. Each business should assess its financing needs and choose the best solution accordingly.
Small Business Loans in New Hampshire
There are several options for small business loans in New Hampshire. The Small Business Administration (SBA) offers several loan programs for small businesses, including the 7(a) Loan Program and the 504 Loan Program. These loans can be used for working capital or other purposes like purchasing real estate or equipment.
Factoring is a great alternative to traditional bank loans because it offers faster approval and more flexible terms. In addition, factoring companies don't require you to fill out a ton of paperwork or jump through hoops as banks do.
New Hampshire's Business Economy
New Hampshire has a strong economy with low taxes and business-friendly regulations. Its business economy is characterized by a diverse mix of industries, including healthcare, education, technology, manufacturing, and tourism. The state's business-friendly policies and low taxes have made it an attractive destination for entrepreneurs and small businesses looking to establish a presence in the region.
The state also benefits from its proximity to major cities like Boston, which provides access to a large consumer market and skilled workforce. Overall, the state's economy has remained resilient in recent years, with low unemployment rates and a strong GDP growth rate.
Factoring can provide your business with access to working capital, help manage cash flow and improve liquidity. Find a factoring company in New Hampshire by browsing our factoring guide below.
Factoring Companies in New Hampshire:
Eagle Business Credit

EZ Invoice Factoring

Orange Commercial Credit
To be sure you're making an informed decision when choosing a factoring company, read through this Invoice Factoring Guide to learn more about invoice factoring and how to find the ideal factoring partner in New Hampshire.
When you're ready to find a financier to partner with, get in touch with the Invoice Factoring Guide team for a free rate quote, and we will connect you with the best New Hampshire factoring company for your needs!
Request a Factoring Rate Quote