Indiana Factoring Companies
Indiana, a thriving state known for its manufacturing, agricultural, healthcare, and transport sectors, boasts numerous factoring companies that cater to most B2B businesses' financial needs. As a vital hub for automotive manufacturing, with Indianapolis being the 4th largest auto-manufacturing center in the US, Indiana's factoring companies play a crucial role in keeping companies in the state financially stable – offering tailored invoice factoring solutions to industries such as:
Iron and Steel Manufacturers

Pharmaceutical Companies

Soybean and Corn Farmers
Invoice factoring is an essential financial tool for any business in Indiana. Whatever your financing or factoring needs, there is an Indiana factoring company for your industry. Whether your business is based in Indianapolis, Evansville, Fort Wayne, or any other major economic hubs, factoring companies in Indiana have the right cash flow solutions to keep you competitive.
Invoice Factoring Services in Indiana
Factoring companies in Indiana offer a variety of factoring services: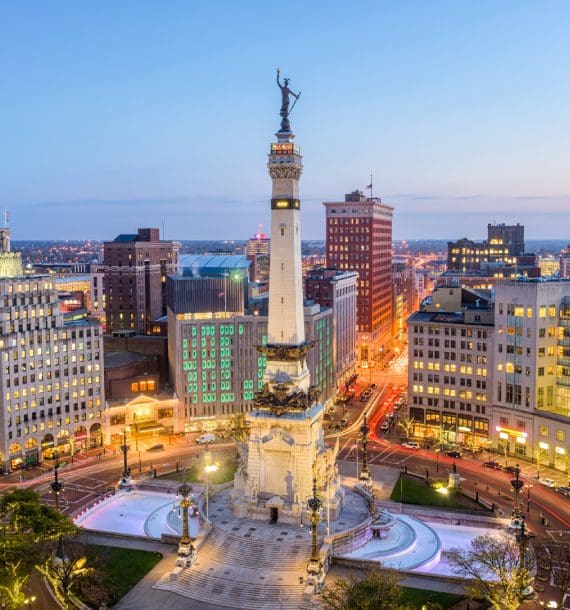 Accounts Receivable Financing in Indiana
Apart from invoice factoring, businesses in Indiana have access to other types of accounts receivable financing options that cater to their unique needs. Some of these alternatives include:
Invoice Financing: A similar concept to factoring; however, this option works more like a loan. You submit the invoices you would like financed and use them as collateral to borrow money. This may be ideal for short-term cash flow solutions, especially because you maintain control of your accounts receivable processes and, therefore, your customer relationships. However, once your debtors have paid, you will need to repay the factoring company the loan amount and any interest or fees.

Asset-based lending: If your business has physical assets but a weak credit history, asset-based lending can be an attractive option. Here, you can use assets like equipment, invoices, inventory, or property as collateral to secure financing. However, there are monthly repayments to consider, high interest, debt accumulation, and the risk of losing your collateral if you default.

Merchant cash advances: Suitable for retail stores or restaurants that rely on credit card transactions, merchant cash advances provide upfront cash in exchange for a percentage of your future daily credit card sales.
While these options offer financial flexibility, invoice factoring is still the more accessible and convenient choice for businesses seeking a more straightforward, debt-free solution.
Small Business Loans in Indiana
Small business owners in Indiana can explore various loan options for financing, although some alternatives might come with higher costs than invoice factoring. Some of these options include:
Traditional Bank Loans: While popular, bank loans often require extensive paperwork and may come with high-interest rates, making it challenging for some businesses to qualify.

Alternative Lenders: Online lenders, peer-to-peer platforms, and micro-lenders offer quick financing, but the accessibility of invoice factoring makes it a more attractive option for many small businesses.
As an interest-free and collateral-free alternative to traditional loans, invoice factoring is an adaptable small business financing option in Indiana that doesn't require credit checks.
Indiana's Business Economy
Indiana's business economy is driven by its strong industrial sector, including manufacturing, agriculture, healthcare, and transportation. Despite facing economic challenges similar to other states across the USA, Indiana businesses have found ways to adapt and grow. Invoice factoring plays a crucial role in this adaptation by providing immediate funding and cash flow for businesses facing financial hurdles.
With a robust and diverse economy, Indiana is home to a thriving business community that benefits from the support of invoice factoring companies. These companies offer tailored financial services that help businesses overcome cash-flow challenges and maintain smooth operations, ensuring Indiana remains an economic powerhouse within the United States.
Factoring Companies in Indiana:
Invoice Factoring Guide (IFG) offers all the resources you need for a successful factoring experience, from our educational Factoring Guide to our online directory of industry-specific factoring companies. We also offer matching services to give you the peace of mind that the factoring company you choose will be the best fit for your unique challenges.
Request a complimentary rate quote for help finding the best Indiana factoring company for your needs!
Request a Factoring Rate Quote