Maine Factoring Companies
There are several Maine factoring companies that specialize in helping small and medium-sized businesses manage their cash flow. Maine is known for its scenic coastline, picturesque fishing villages, and lobster shacks, but its economy is driven by a diverse range of industries. No matter how much potential an industry may have for success, business is free of cash flow struggles. Factoring companies work to give companies in need of a cash flow boost access to convenient, fast financing that helps them support their operations without taking on debt.
When you enter a factoring agreement, you sell your unpaid invoices (open accounts receivable) to a factoring company. The factor will assume ownership of the invoices (and, therefore, any associated collections responsibilities), and you will get an instant advance of a percentage of their face value. Without the need to wait for slow-paying clients and as much as 95% of the invoice value on hand, you will have the working capital you need to cover your expenses and invest in growth. All of your clients will then pay the factoring company directly, and you can focus on running your business. Once all of your invoices have been paid, the factoring company will refund you the remaining invoice balance, minus a small factoring fee.
Factoring companies in Maine work with businesses in a variety of industries, including:
If you have a business in Maine, partnering with a factoring company can help you to keep your business from falling into debt and improve your cash flow. It's important however to find the right factoring company which the right services for your business.
Invoice Factoring Services in Maine
Invoice factoring is a popular financing option for many businesses in Maine. With invoice factoring, a company sells its accounts receivable to a factoring company in exchange for immediate cash. There are various types of factoring that you could choose from.
Spot Factoring Services: If you don't want to sign a regular factoring agreement where you submit your invoices on a recurring basis, you can still use factoring services. Spot factoring is a type of invoice factoring that allows businesses to sell individual invoices to a factoring company as needed. It is a good option if your business has occasional cash flow issues and you don't want to commit to a long-term factoring agreement.

Recourse Factoring Services: With recourse factoring, your business is responsible for buying back any invoices that are not paid by your customers. It is typically less expensive because the credit risk stays with your business.

Non-Recourse Factoring Services: With non-recourse factoring, the factoring company assumes the risk of any unpaid invoices. So, if your customers don't pay, the factoring company will accept the loss. This factoring type does, however, come with more expensive fees but less risk for your business.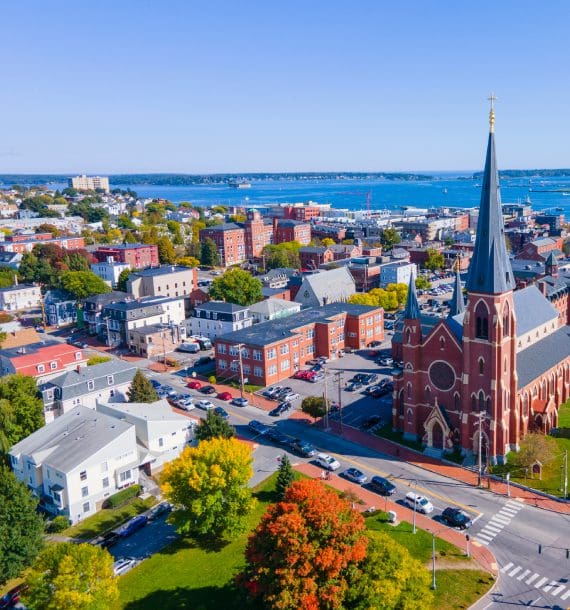 Accounts Receivable Financing in Maine
Invoice factoring is not the only financing option where you can use your invoices to secure additional cash flow. Accounts receivable financing is another financing option available to businesses in Maine. With this type of financing, a company uses its accounts receivable as collateral to secure a loan. The lender advances a percentage of the value of the accounts receivable, and your business repays the loan as it collects payments from customers.
Asset-based lending is a type of financing that uses a company's assets, such as inventory or equipment, as collateral to secure a loan. It is for businesses that have significant assets but may not qualify for traditional bank loans due to poor credit or other factors. That said, ABL puts your assets at risk, so if you miss your loan payments, you may lose your valuable assets and damage your credit rating.
Merchant cash advances are also another financing option available to businesses in Maine. With this type of financing, a business receives a lump sum of cash in exchange for a portion of its future credit card sales. The lender collects payments directly from the business's credit card processor, making repayment simple and convenient. However, keeping up with the regular loan payments and interest rates can be challenging, especially if your business is already struggling to maintain a positive cash flow.
Small Business Loans in Maine
Maine has a variety of small business loan programs available to help businesses start, grow, and expand. These programs include traditional bank loans, SBA loans, and state-specific loan programs. However, the loan landscape can be challenging to navigate, and that's where invoice factoring comes into the picture as an alternative financing solution.
Invoice factoring offers several advantages over traditional small business loans. It provides immediate cash flow, allowing businesses to meet their financial obligations and seize growth opportunities. Factoring lines are also typically easier to qualify for than traditional bank loans, making it a good option for businesses with poor credit or limited financial history.
Maine's Business Economy
Maine's economy encompasses a broad mix of traditional industries, such as paper and pulp, agriculture, and fishing, as well as newer industries, such as healthcare, technology, and renewable energy. The state has a relatively small population but a high median household income compared to other states in the region.
Maine's business climate is generally favorable, with low taxes, a well-educated workforce, and a robust entrepreneurial spirit. Overall, Maine is a good place to start and grow a business, with a variety of financing options from factoring companies available to help businesses succeed.
Factoring Companies in Maine:
Eagle Business Credit

Orange Commercial Credit

Easy Invoice Factoring

Prestige Capital Corporation
To be sure you're making an informed decision when choosing a factoring company, read through this Invoice Factoring Guide to learn more about invoice factoring and how to find the ideal factoring partner in Maine. You could also request a free rate quote for help finding the best Maine factoring company for your business.
Request a Factoring Rate Quote