Invoice Factoring for Oil and Gas Companies
In the fast-paced and ever-changing oilfield industry, maintaining steady cash flow is critical to staying ahead of the competition. Invoice factoring offers a unique, debt-free financing solution designed to address the challenges faced by oil and gas businesses. By converting your outstanding invoices into immediate cash, your business will have the cash flow it needs to operate without the added stress of waiting for slow-paying clients to settle their accounts. Oilfield invoice factoring is one of the best ways to ensure your company's financial stability and resilience in the demanding energy sector.
Oilfield Factoring vs. Bank Loans
Financial decision-making in the oilfield industry is critical, and selecting the right financing option is paramount. Bank loans are known for their strict approval requirements and lengthy application processes. Oilfield invoice factoring, on the other hand, provides an alternative financing option that works around the challenges presented by bank loans:
Unleash the power of your invoices: With invoice factoring, your unpaid invoices are transformed into instant cash, bridging the gap between invoicing and payment from debtors, and ensuring your business remains financially agile.

No more credit roadblocks: Oilfield factoring companies assess the creditworthiness of your clients, not your business. This means that even if your company has a less-than-perfect credit history, you can still access the funding you need to thrive.

Say goodbye to debt: Unlike traditional bank loans, invoice factoring is a debt-free financing solution. This preserves your balance sheet and ensures your company remains unburdened by additional liabilities.

Financial flexibility: As your business grows and your invoicing volume increases, your factoring line can grow alongside it. This scalability allows your company to access more funding as needed without renegotiating terms or incurring additional debt.

Expertise and support: By partnering with an oilfield factoring company, you'll gain access to a team of industry professionals who understand the complexities of the oil and gas sector. They'll provide valuable support, helping you manage your receivables and maintain smooth cash flow operations.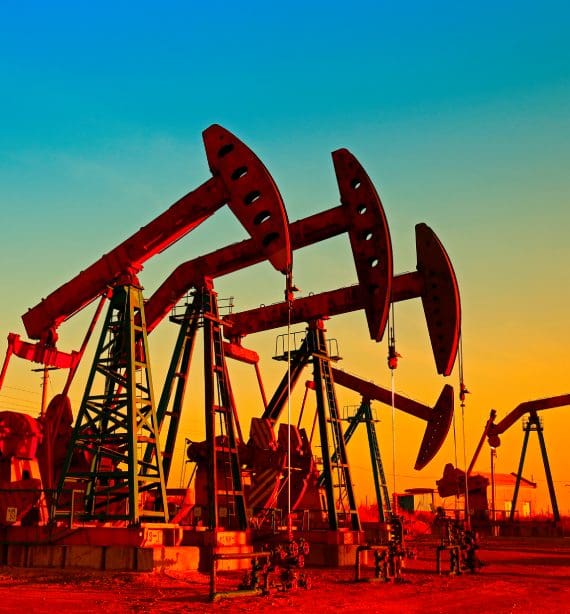 Top Challenges in the Oilfield Services Industry
The oilfield industry faces a multitude of challenges that can impact business success. Some of the most pressing issues include:
Fluctuating oil prices: The volatility of the market can make it difficult to predict revenues and manage expenses.

High operational costs: The costs of drilling, equipment, and maintenance are substantial and are known to strain a company's cash flow.

Long payment terms: Lengthy payment cycles can create cash flow gaps that put pressure on oilfield businesses to find alternative financing solutions.

Industry downturns: Economic downturns and shifts in the energy landscape can negatively impact the oilfield sector.

Declining consumer demand: Changes in consumer preferences and the push for renewable energy sources are leading to reduced demand for oil and gas products.

Investor pressure: Investors are increasingly focused on Environmental, Social, and Governance (ESG) factors, leading to greater scrutiny and pressure on oilfield businesses to adapt to more sustainable practices.
These challenges highlight the need for oilfield companies to explore alternative financing solutions, such as invoice factoring, to maintain a stable cash flow and effectively navigate the complex challenges the oil and gas industry faces on a daily basis.
How to Run a Successful Oil & Gas Company
Conquering the oilfield industry's challenges requires an adaptable approach. Follow these crucial tips to ensure your business thrives:
Quality counts: Invest in cutting-edge equipment and maintenance for efficient, safe operations.

Cultivate strong connections: Strengthen ties with the oil and gas ecosystem, from drilling contractors to equipment suppliers.

Strategy is vital: Anticipate market fluctuations with a well-defined business plan.

Master your cash flow: Harness alternative financing options like oilfield invoice factoring to maintain smooth sailing.
Fueling Growth with Invoice Factoring in the Oil and Gas Sector
For many oil and gas companies, the ability to maintain cash flow and capital for growth is a constant challenge. Invoice factoring for oil and gas offers a robust solution, allowing businesses to use invoice factoring to immediately bolster their working capital. This form of invoice financing is particularly beneficial for oilfield service providers and contractors who regularly face long payment cycles on their outstanding invoices. Engaging in accounts receivable factoring enables these companies to access the funds tied up in invoices more promptly, thus avoiding the cash flow disruptions that can hinder business operations and potential expansion.
Oilfield contractors and service companies, integral to the gas and oil industry, frequently turn to invoice factoring for oilfield projects to secure the necessary capital to undertake new ventures and sustain their business momentum. The process of factoring for oil and gas involves selling your receivables at a discount to a factoring company, which then provides an advance on a significant portion of the invoice value within a few business days. This immediate cash flow can be crucial for companies in waiting periods for payments, particularly since payment terms can extend up to 90 days.
The advantages of receivables factoring as a financing solution for oil and gas are clear, providing the necessary liquidity for businesses to foster growth and remain competitive. In addition, oilfield factoring represents a form of financing that can be especially beneficial for those who may struggle to qualify for traditional lending due to strict credit requirements or being new to the market.
Overall, invoice factoring for oilfield service can alter the financial landscape for energy sector entities, providing a pathway to increased stability and enabling them to grow their business without the typical constraints of invoice payment cycles. With the support of a reliable factoring partner, oil and gas firms can secure the funding solutions needed to navigate challenges and seize new opportunities.
In this dynamic sector, leveraging accounts receivable factoring services and the factoring program can help your company manage the ebb and flow of industry demands, ensuring that you have the resources to grow your business. By submitting copies of the invoices you wish to factor, the value of those invoices is made available right away, giving you the cash needed to keep operations running smoothly and invest in future projects. This kind of financial tool is essential for those who aim to keep a steady cash flow and benefit from the oil and gas market trends, even as they handle the complexities of managing fluctuating demands and the wait for payments.
Financing Options for Motor Carrier Businesses
Various financing options can assist oilfield businesses in addressing the unique challenges they face:
Bank loans: Traditional loans provide funding but may be restrictive and require lengthy approval processes.

Equipment leasing: A means to obtain essential equipment without substantial upfront investments.

Lines of credit: Short-term financing solutions for covering expenses or capitalizing on growth opportunities.

Invoice factoring: A versatile, debt-free financing option that converts unpaid invoices into immediate cash, allowing oilfield companies to maintain financial stability and resilience in a demanding industry.
Among these alternatives, invoice factoring still stands out as the most suitable solution for growing oilfield businesses, providing rapid access to funds, adaptability, and scalability that go a long way in facilitating growth and success.
Choosing a factoring company may seem straightforward, but small decisions can significantly affect how much you benefit from the service. Learn everything you need to know about invoice factoring and what you should look out for when choosing a factoring company in this Factoring Guide. 
Alternatively, you can ensure that you are partnering with a factor that understands your industry and the unique challenges you face by getting in touch with Invoice Factoring Guide (IFG). Our team will work with you to uncover the specific financial challenges your company is dealing with and find the perfect oilfield factoring company to help you navigate them. Request a free factoring rate quote today!
Request a Factoring Rate Quote