Invoice Factoring for Security Guard Companies
As a security guard company owner, you know that managing cash flow can be a challenge. Your business operates on tight margins, so waiting 30, 60, or even 90 days to get paid for services you have rendered can really hurt your business. In addition, slow-paying clients make it difficult to keep up with expenses like payroll, equipment, and expansion, but there is a solution: invoice factoring.
Security Guard Invoice Factoring vs. Bank Loans
If you've ever tried to get a bank loan, you know how challenging it can be. Banks are often reluctant to lend to small businesses, especially those in industries like security guard services that have higher risk profiles. That's where invoice factoring comes in.
Compared to traditional financing options like bank loans, factoring is much easier to obtain. You don't have to worry about your credit score or providing collateral. Factoring companies look at your customers' payment history instead, which makes it a great option for smaller businesses or those with poor credit. Plus, you can get approved and funded much faster than you would with a traditional bank loan. 
Most factoring companies offer a fast and streamlined approval process with advances paid in a few days, compared to the months you may wait for a traditional financial institution. And, if you're worried about cost, the interest on a bank loan is generally higher than factoring fees.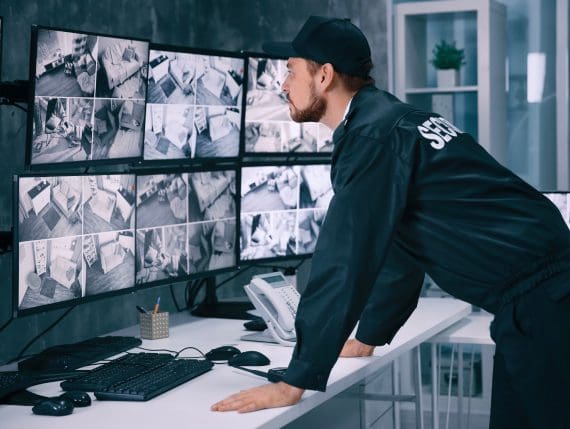 Top Challenges in the Security Guard Industry
From limited manpower and outdated technology to cyber and physical security, there are a number of challenges that security guard companies face on a daily basis.
Attracting Skilled Talent and Retaining Them: Security guards are the first line of defense against theft, vandalism, and other criminal activities, so it's essential to have a highly trained and motivated team. Unfortunately, it can be challenging to find qualified individuals who are willing to work in this field, especially if a competing company is offering better benefits and higher salaries.

Maintaining Profitability Despite Narrow Margins: Security guard companies often have to operate on tight margins due to the industry's highly competitive nature. This can make it difficult to invest in new technology, hire additional staff, or expand operations, all of which are essential for staying competitive and profitable.

Demonstrating Excellent Service Delivery and Quality in Contract Fulfillment: Due to the nature of your work, you need to prove exceptional quality and service delivery on your contracts if you hope to retain clients and win new business. With money on hand from factoring, you can ensure that your teams are well-trained, your technology is up-to-date, and your equipment is well-maintained without worrying about when your clients will pay you.
How to Run a Successful Security Guard Company
Running a successful security guard company requires a combination of business acumen and industry-specific knowledge. Some tips for success include:
Establishing a strong brand and reputation in the industry

Developing a clear business plan and strategy

Investing in training and development programs for employees

Leveraging technology to streamline operations and improve service delivery

Building strong relationships with clients and stakeholders

Staying up-to-date with industry trends and regulations
Whether you specialize in armored cars, bodyguards, corporate investigations, crowd control, private detective services, patrolling, or any other security service, you will need to obtain the relevant permits and licenses. Plus, no matter what your service offering, you must be able to fund your operations from the launch to any expansion plans you have. Most successful security companies start off with substantial capital at the offset, so if you need to catch up and improve your cash flow, security guard factoring may be the best next step.
Financing Options for Security Guard Companies
Several financing options are available to help businesses in the security industry overcome their financial hurdles. Here are some of the most common:
Traditional Loan: Traditional bank loans can be difficult to obtain for small businesses, especially those with higher risk profiles like security guard services. If you do manage to qualify, loans are accompanied by hard limits and costly interest.

Line of Credit: A line of credit is a flexible financing option that allows you to access funds as needed up to a predetermined limit, almost like a credit card. This can be a useful option for covering unexpected expenses or managing seasonal fluctuations in business. However, much like a traditional loan, it is difficult for small or growing businesses to get approved for a line of credit. Plus, it requires monthly payments, which can be difficult to keep up with if you already struggle with unstable cash flow.

Equipment Financing: Equipment financing allows you to purchase or lease equipment needed for your security guard business. This can be helpful if you need to upgrade or replace equipment but don't have the cash on hand to do so. However, the interest rates are high, and you may be required to make a down payment.

Invoice Factoring: This financing option allows you to sell your unpaid accounts receivables to a factoring company in exchange for immediate cash. Factoring can help you improve cash flow and avoid delays in payments from clients. One advantage of factoring over other financing options is that factoring companies typically don't require collateral, meaning you won't have to put your company's assets at risk. Additionally, factoring provides immediate cash flow and can be an effective solution for companies that have outstanding invoices but need the funds sooner to cover their expenses. Factoring companies also take on the responsibility of collecting on the unpaid invoices, freeing up time and resources for your security guard company.
Are you tired of waiting for your clients to pay their invoices? It's time to take control of your cash flow and get the funding you need to keep your business running smoothly.
It's important to find a factoring company that specializes in your industry. After all, security companies have unique needs and challenges that not every factor can handle.
Use our Invoice Factoring Guide to gain valuable insights into choosing the right factoring company for your specific needs. Equipped with the necessary knowledge, you can make informed decisions when comparing the list of factors on our website.
Better yet, we can connect you with a factoring company that understands exactly what it takes to be successful in the security services industry and has the resources necessary to help you get there.
Take the first step towards a more secure financial future with invoice factoring for your security company. Contact us today!
Request a Factoring Rate Quote