North Carolina Factoring Companies
As the beating heart of the 'Old North State,' North Carolina's thriving industries provide the perfect landscape for businesses to grow and prosper. However, maintaining a healthy cash flow can be challenging. That's where invoice factoring comes in, offering a lifeline to businesses in various sectors, such as:
Construction

Retail

Tourism

Agriculture
With a strong presence in cities like Raleigh, Asheville, and Charlottesville, factoring companies in North Carolina understand the unique needs of local businesses, offering tailored financial solutions to overcome cash flow challenges and unlock new opportunities.
Invoice Factoring Services in North Carolina
North Carolina factoring companies provide various services to their clients, which include:
Spot factoring: This option is perfect for businesses that prefer flexibility in their financing and only require occasional cash injections. Spot factoring allows you to select specific invoices to factor without entering a long-term contract.

Recourse factoring: Your business sells its invoices to the factoring company at a discount. However, if a customer fails to pay the invoice, your business is responsible for repurchasing the invoice from the factoring company. This option typically offers lower fees compared to non-recourse factoring, as your business retains the credit risk.

Non-recourse factoring: Unlike recourse factoring, the factoring company assumes the credit risk in non-recourse factoring. If a customer fails to pay a factored invoice, the factoring company absorbs the loss. As a result, non-recourse factoring usually comes with higher fees due to the additional risk taken on by the factoring company.
Factoring companies in North Carolina offer value-added services such as credit checks, accounts receivable management (including invoicing, payment processing, and reporting), and collection services to help you streamline your business operations and reduce administrative tasks.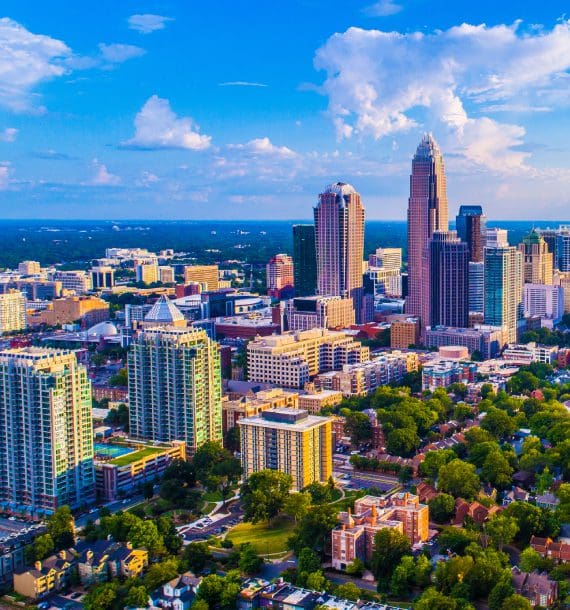 Accounts Receivable Financing in North Carolina
There are various financing options available to businesses in North Carolina other than factoring. Invoice financing is one of them, where companies can use unpaid invoices as collateral for a loan. This is a suitable option for businesses that need short-term cash flow solutions while maintaining customer relationships.
Another financing option available in North Carolina is asset-based lending, where businesses can use physical assets such as equipment, inventory, or property as collateral. This is beneficial for businesses with physical assets but a weak credit history.
Small Business Loans in North Carolina
In addition to accounts receivable financing, small businesses in North Carolina have access to various loan options. These include:
Traditional Bank Loans: Many small businesses turn to banks for loans, but qualifying can be challenging due to strict credit requirements and the need for collateral. Bank loans often have lower interest rates, but the application process can be time-consuming, and approval rates can be low.

SBA Loans: The Small Business Administration (SBA) provides loan programs designed to help small businesses secure financing. SBA loans are partially guaranteed by the government, reducing the risk for lenders and making it easier for small businesses to qualify. However, the application process can be complex and lengthy.

Online Lenders: For businesses seeking a faster and more streamlined application process, online lenders can be a viable alternative. Online lenders often have less stringent credit requirements and faster approval times compared to banks, but interest rates may be higher.

Peer-to-Peer Lending: Through peer-to-peer lending platforms, small businesses can connect with individual investors willing to provide loans. This option typically offers a quicker application process and more flexible terms than traditional bank loans, but interest rates can vary.
While each loan option has its advantages, invoice factoring remains an attractive alternative for many small businesses in North Carolina. Invoice factoring provides immediate cash flow without incurring debt, and it doesn't require collateral or impact your credit score.
Business Economy of North Carolina
North Carolina boasts a thriving and diverse business economy, making it an attractive location for businesses of all sizes. The state has experienced steady economic growth over the years, thanks in part to a favorable business climate and an educated workforce.
The technology and life sciences sectors are significant drivers of economic growth in North Carolina, with the Research Triangle Park (RTP) housing numerous high-tech companies and research institutions. Additionally, the state's manufacturing industry continues to be a vital part of the economy, encompassing sectors such as aerospace, automotive, and food processing.
North Carolina is also known for its strong agricultural sector, with the state being a leading producer of tobacco, poultry, and hogs. The renewable energy industry has seen substantial growth in recent years, with North Carolina ranking among the top states for solar energy production.
In this dynamic business environment, North Carolina factoring companies play an essential role in supporting businesses across various industries. By providing tailored invoice factoring and other financing solutions, these companies help businesses maintain healthy cash flow, seize growth opportunities, and navigate the challenges of the ever-evolving economy.
Factoring Companies in North Carolina:
If you're considering invoice factoring as a solution to your cash flow struggles, be sure you're prepared enough to make the right decision when choosing a factoring partner. Read through this educational Factoring Guide to learn everything you need to know about the process and what to look for in your factoring agreement to make sure you get the most favorable contract terms.
Once you're ready to start your factoring journey, let Invoice Factoring Guide (IFG) find the best North Carolina factoring company for your business's unique working capital requirements. Request a free rate quote today!
Request a Factoring Rate Quote