Arkansas Factoring Companies
The Natural State is home to numerous Arkansas factoring companies – each committed to providing accessible financing solutions to businesses in need of a working capital boost.
Bordering the Mississippi River, Arkansas is renowned for its abundant natural resources, parks, and wilderness areas, with terrain that encompasses mountains, caves, rivers, and hot springs. With its rich natural resources, it's no wonder the state is the fourth-largest lumber producer in the nation. That's why you'll find many invoice factoring companies offering financing to lumber distributors and businesses involved in the timber and forest products industry.
Home to several food manufacturers and Walmart's headquarters in Bentonville, Arkansas also has a strong manufacturing presence. Numerous factoring companies are available to support businesses in these sectors by providing essential financing solutions.
Curious about other industries that can benefit from invoice factoring in Arkansas?
Distribution and Logistics

Aerospace and Defense

Corporate and Shared Services

Firearms and Ammunition

Metals

Transportation Equipment.
Wherever you are in Arkansas, and no matter what B2B industry you operate in, there is a factoring company with the expertise and experience to give your company tailored cash flow solutions.
Invoice Factoring Services in Arkansas
When you sell your unpaid invoices to a factoring company, you receive an almost immediate infusion of funds via check or electronic transfer with minimum risk. You can use the money as you see fit, whether it be to pay urgent expenses or grow your business. Arkansas offers various factoring services to improve your cash flow:
Regular Factoring in Arkansas: An ongoing relationship between the factoring company and you, where you submit an approved number of invoices for advance payment on a monthly basis. With a typical factoring agreement, the factoring company will ease your back-office burden and take over the invoicing and collections for you, so you just need to complete your services as usual, and you get the invoice payment without the wait.

Spot Factoring in Arkansas: This is the ideal service when you need funds for a single transaction and don't want a long-term commitment. You can submit invoices for factoring on an as-needed basis, and, as with other factoring arrangements, the money is generally paid out within twenty-four hours.

Recourse Factoring in Arkansas: You are ultimately held responsible if the debtor does not pay the invoice held by the factoring business, although they must make every effort to collect the payment. If your client does not pay, you will need to repay the advance you received for that specific invoice. As the liability for non-payment is with your business, this factoring option typically costs less than non-recourse agreements.

Non-Recourse Factoring in Arkansas: The factoring company takes responsibility for the non-payment of invoices by debtors. So, if one of your clients cannot pay their invoice, the factoring company will accept the loss, and your business will not be held liable. However, this factoring option usually includes higher fees.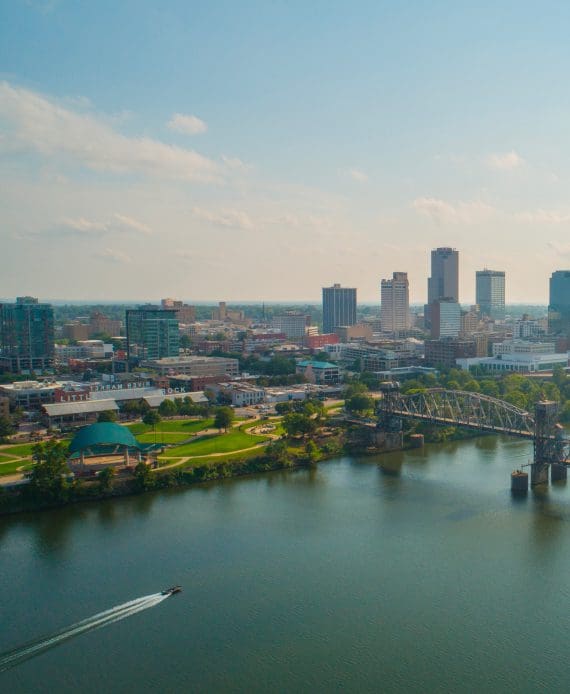 Accounts Receivable Financing in Arkansas
There are several types of accounts receivable financing available to Arkansas businesses other than factoring, including accounts receivable loans and asset-based financing.
Accounts receivable financing is similar to factoring in the way that you are getting an advance on a percentage of your total open invoice balance. However, what makes it different is that instead of transferring ownership of the invoices to the factoring company, you still own the invoices and are responsible for collecting the debt. Your invoices will be used as collateral to secure the loan, and you will need to repay the lender once all your customers have settled their accounts.
Alternatively, some businesses use other tangible assets, including invoices, equipment, property, or inventory, as collateral to secure asset-based financing. Lenders generally prefer highly liquid collateral, such as securities, because they can be converted to cash quickly if there are payment defaults. This option is relatively easy to access but can include high fees. Plus, if you default, you risk losing your assets and damaging your credit.
If you're looking for a financing option that offers the convenience and accessibility of the above choices without the drawbacks, factoring offers instant, interest-free cash advances without the need for cumbersome processes, credit checks, collateral, or long waiting times for approval.
Factoring companies can help businesses effectively manage their cash flow by providing a reliable source of funding for their unpaid accounts receivable. By choosing a reputable factoring company in Arizona, your business can access fast and flexible funding to meet its urgent cash flow needs without putting your assets or customer relationships at risk.
Small Business Loans in Arkansas
There are several types of traditional loans available to small businesses in Arkansas, including bank small-business loans, lines of credit, and online term loans. The U.S. Small Business Administration (SBA) offers government-guaranteed loans to small businesses with favorable rates and terms but requires collateral and a personal guarantee.
Factoring is a convenient alternative to traditional loans and has several benefits. The creditworthiness of your clients is the main approval requirement, so if you are the owner of a new business without a strong credit history, you can still be approved as long as your customers have a good track record of paying their invoices.
Arkansas Business Economy
Arkansas is home to several Fortune 500 companies and international corporations. It is the second most affordable state to live in, and the unemployment rate tends to be below the national average. Income tax cuts signed in 2015, 2017, 2019, 2021, and 2022 make Arkansas an attractive business investment and expansion destination. Various incentive programs are available to businesses, including tax credits.
Factoring services are readily available in Arkansas to all businesses in the manufacturing, timber, transport, metal, technology sectors, and more. Sell your unpaid customer invoices to any of the Arkansas factoring companies waiting to partner with you, and use the funds as you need them, when you need them.
Factoring companies in Arkansas:
Business Factors & Finance

Orange Commercial Credit
Do you need a factoring company in Arkansas? From Little Rock to Fortsmith, several industry-specific factors are ready to help your business. You can ensure you are making an informed choice by reading through this Invoice Factoring Guide to learn more about invoice factoring and how to find the ideal factoring partner in Arkansas. You can then explore our website to find the perfect factor for your needs.
Alternatively, get in touch with Invoice Factoring Guide (IFG) today, and we will find the right Arkansas factoring company to solve your cash flow problems.
Request a Factoring Rate Quote