Invoice Factoring for Permanent Staffing Firms
Navigating the complexities of a permanent staffing agency is a demanding task. Equip yourself with the power of invoice factoring tailored for staffing companies to triumph over cash flow obstacles and concentrate on linking exceptional talent with the ideal opportunities.
Imagine a world where cash flow isn't a concern, and you can focus on expanding your business and finding the perfect match between talent and clients without worrying about how you'll cover your expenses. That's precisely what invoice factoring can offer your permanent staffing agency.
Permanent Staffing Factoring vs. Bank Loans
This tailor-made financial solution transforms your unpaid invoices into immediate cash. It provides you with the working capital you need to grow your business, cover expenses, and invest in the cutting-edge tools and resources you need to stay ahead of the competition.
Here's what sets invoice factoring apart from traditional lending:
Fast access to cash: No more waiting for clients to pay their invoices; receive the funds you need when you need them.

No collateral required: Unlike bank loans, invoice factoring doesn't demand collateral, making it an accessible option for all permanent staffing firms.

Scalable financing: As your agency grows, your invoice factoring arrangement can grow with you, ensuring you have the funds to seize new opportunities.

Expertise and support: Partnering with a staffing factoring company means you'll gain access to industry experts who understand your challenges and are committed to helping you succeed.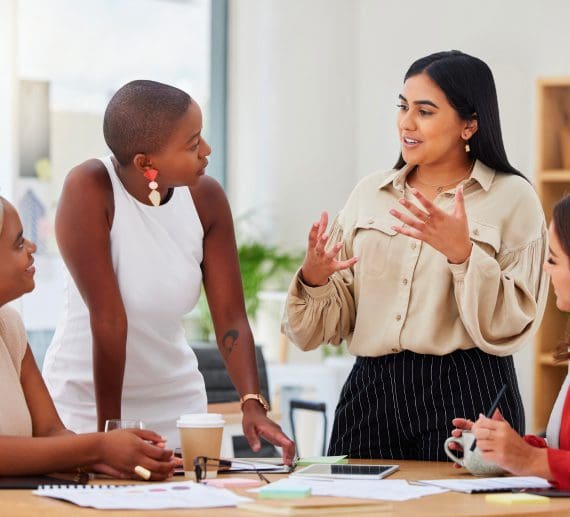 Top Challenges in the Permanent Staffing Industry
The recruiting industry is service-based, meaning it operates without a physical product to sell. This makes it a lot more difficult to build a steady cash flow. That, however, is just one of the challenges staffing companies face. Some of the most pressing problems staffing firms face include:
Inconsistent cash flow due to delayed invoice payments from clients

High overhead costs, including office space, technology, and staff salaries

Meeting payroll obligations, especially during periods of rapid growth or high demand

Difficulty securing funding from traditional lenders, such as banks, due to the nature of the staffing industry
Why is it So Difficult for Permanent Staffing Firms to Get a Loan?
Fluctuating revenues: The income of staffing agencies can be unpredictable, as it is dependent on the demand for permanent placements, which can fluctuate depending on economic conditions and industry trends. This revenue variability can make it challenging for traditional lenders, like banks, to assess the risk associated with lending to a staffing business.

Client payment delays: Staffing agencies often have to wait for their clients to pay outstanding invoices, which can take 30 to 90 days or even longer. This delay in payment can create cash flow problems, making it harder for staffing companies to meet their financial obligations and appear financially stable to banks.

Intangible assets: Unlike other industries that may have significant tangible assets, such as equipment or real estate, staffing agencies primarily have intangible assets, like their talent pool and client relationships. Traditional lenders often prefer to lend against tangible assets, which can be sold to recover their investment in case of a default. This is another reason it can be difficult to obtain funding from a bank.
How to Run a Successful Permanent Staffing Agency
Success in the staffing world goes beyond matching talented candidates with the right clients. Solid financial management is crucial. Here are some pointers to help your agency flourish:
Cultivate lasting client relationships: Open communication and responsiveness are vital for building trust with your clients. This trust will ensure repeat business, positive referrals, and a good brand image which will bring in more business.

Embrace technology: Modern tools and software can streamline your recruitment process and enhance productivity. This will go a long way in cutting costs and improving the overall efficiency and profitability of your company.

Keep an eye on cash flow: Monitor cash flow closely and make adjustments as necessary to ensure you always have enough working capital to cover your expenses and support growth. A good practice is to set up an emergency fund and contribute to it as often as you can.

Consider invoice factoring: Permanent staffing factoring stabilizes your cash flow, letting you focus on core business functions and agency expansion rather than unpaid accounts receivable.
Financing Options for Permanent Staffing Companies
As the owner of a permanent staffing agency, you have a diverse range of financing options to evaluate:
Business loans: Although traditional loans offer a lump sum, they can be difficult to secure, often requiring extensive collateral and a strong credit history.

Lines of credit: A line of credit is more flexible than a bank loan but may come with higher interest rates and can be challenging to obtain for staffing agencies.

Merchant cash advances: An MCA allows you to get funding that you will repay using a percentage of your sales and a small fee. This option provides quick access to cash but can be costly due to high fees and unfavorable repayment terms.

Invoice Factoring: Designed specifically for permanent staffing firms, factoring transforms your unpaid invoices into immediate cash without your business acquiring debt or damaging your credit score, which is why it emerges as the top choice for your staffing business.
If you're tired of waiting for clients to pay and need cash right away to keep your permanent staffing agency running, it's a smart idea to look into invoice factoring services for your business.
Unlock your business's full potential and put the focus back on what matters most: connecting exceptional talent with life-changing opportunities. Get in touch with our team at Invoice Factoring Guide (IFG) for help choosing the best permanent staffing factoring company for your needs.
Request a Factoring Rate Quote