Invoice Factoring for Technology Companies
The technology industry is constantly evolving, and businesses in this field need quick access to cash flow to stay ahead of the competition, keep up with advancements, and meet growing customer demands.
Whether you're in the business of developing cutting-edge technologies or providing tech support to corporate clients, slow payments can cause significant cash flow problems that can derail your operations. Luckily, there is a solution – invoice factoring for technology companies.
Invoice factoring is a financing option that allows you to sell your outstanding invoices to a factoring company in exchange for quick cash. This means you no longer have to wait 30, 60, or even 90 days for your customers to pay. You can get the cash you need to grow your business, pay employees, and invest in new technologies within a few days.
Technology Invoice Factoring vs. Bank Loans
Traditional lending options, such as bank loans, are notoriously difficult to obtain, especially for startups and small businesses. This is just one of the reasons that invoice factoring is often a more attractive financing option for companies in the technology industry. Here are some more key differences between invoice factoring for tech companies and bank loans:
Bank Loans:
Involve taking on debt that must be repaid over time, with interest.

May take weeks or even months to secure funding.

Involve a time-consuming application process and a lot of paperwork.

Can be restrictive and limit your financial flexibility – You may not always be approved for the amount you need (if you are approved at all).

Often require collateral or personal guarantees, which can put your personal assets at risk and negatively impact your credit record.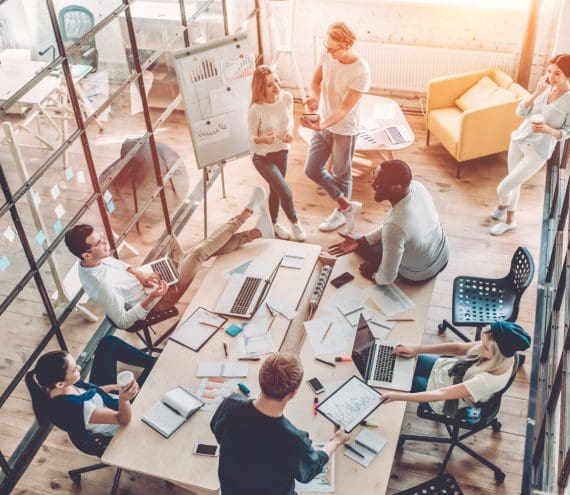 Technology Invoice Factoring:
Involves selling your outstanding invoices to a factoring company at a discount in exchange for immediate cash.

Provides quick access to cash, usually within 24 hours.

Does not create debt on your company's balance sheet or accumulate interest, making it an ideal option if you want to avoid additional interest charges.

Requires no collateral or personal guarantees because it is based on the creditworthiness of your customers. This also means that it is a lot easier to be approved for factoring than a traditional loan.

Is flexible – Depending on your factoring agreement, you can choose how many invoices you would like to submit, so your funding can grow as your business does.
Top Challenges in the Technology Industry
Here are some of the top challenges facing the technology industry today.
Rapid pace of innovation: Technology advancements occur at a rapid pace, which requires businesses to constantly adapt and invest in new technologies to remain competitive.

High research and development costs: Developing new technologies and products often require significant investment in research and development, which can strain cash flow.

Cybersecurity: With the increasing reliance on technology comes an increased risk of cyber attacks. Ensuring the security of sensitive data and protecting against cyber threats is a constant challenge for the technology industry.

Long sales cycles: Technology products and services often have long sales cycles, which can delay payments and impact cash flow.
How to Run a Successful Technology Company
Running a successful technology company requires a lot of effort, but there are some key strategies that can make a big difference. First, it's important to focus on innovation, providing excellent customer experiences, and streamlining operations to stay competitive. You need to constantly update not only your equipment and technology but your working processes too.
Another critical aspect is to set clear goals and milestones, both for yourself and the company, and constantly strive to meet them. That said, one of the most important aspects of running any business is cash flow management. You can't be successful without the money to support your business operations and growth. Invoice factoring helps you navigate your cash flow challenges so your business can keep pushing forward, stay innovative, and take advantage of all the opportunities available to you.
Financing Options for Technology Companies
As the owner of a tech company, you know that having access to a strong stream of working capital is crucial for the growth and success of your business. There are several financing options available for technology companies:
Bank Loans: Bank loans are a common form of debt financing. Banks will often assess the individual financial situation of each company and offer loan sizes and interest rates accordingly. While bank loans may be a good option for established companies with a good credit score and collateral to offer, they can be difficult to secure for startups or companies with less established credit histories.

Equity Financing: Equity financing involves selling a portion of your company (shares) in exchange for funding. This can be a good option for companies that are looking to raise a significant amount of capital, but it also means giving up a portion of the business and potentially losing control over parts of the decision-making process.

Microloans: Microloans (or microfinancing) are small loans given to businesses that can't qualify for traditional bank loans or other financing options. These loans can be a good option for businesses that need a small amount of funding quickly, but the interest rates may be higher than other options on this list.

Invoice Factoring: Invoice factoring is a unique financing option that allows businesses to sell their outstanding invoices to a factoring company in exchange for a portion of the invoice amounts upfront. This can help businesses get access to the funds they need quickly without having to wait for their customers to pay. In comparison to the interest rates charged on bank loans, factoring fees are generally significantly more affordable.
As the owner of a tech company, it's important to consider all of your financing options carefully and choose the one that's right for your business. Of these options, invoice factoring is often the best choice. It provides quick access to cash without requiring collateral or strict repayment terms, and it is available to startups and companies with poor credit histories.
If you are looking for an invoice factoring company that specializes in providing funding for the technology industry, we can help. You can explore the list of industry-specific companies that have been added to our database over the years and compare their services using our helpful Invoice Factoring Guide.
If you want to be absolutely sure that you are making the right choice, let our team at Invoice Factoring Guide find the right partner for you. Get in touch with us for a complimentary rate quote, and we will work to find you the right factoring partner while you focus on running your business.
Request a Factoring Rate Quote