Invoice Factoring for Healthcare Companies
Whether directly through patient care or indirectly by serving medical providers, your business changes lives. You can't compromise quality or speed just because accounts receivable aren't always paid in a timely manner. That's where invoice factoring for healthcare companies helps. Instead of waiting for payment, invoice factoring puts cash in your hands today, so you can focus on the vital work you do and patients receive the care they deserve.
How Healthcare Factoring Works
Traditional invoice factoring is a straightforward process in which you sell your unpaid receivables to a factoring company at a discount. You receive most of the invoice's value upfront while the factoring company waits. When payment is received, the factoring company sends you the remaining balance minus a small factoring fee.
Because the medical industry works a little differently than most, healthcare factoring is tailored to meet your unique needs and is typically broken up into two distinct groups: factoring for medical providers and factoring for companies that support the healthcare industry.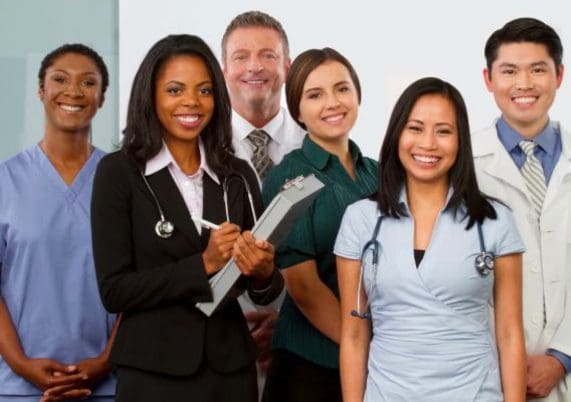 Invoice Factoring for Medical Providers
Invoice factoring is typically used only on receivables being paid by large payors rather than patient bills. Medical providers that bill Medicare, Medicaid, or private insurance companies can wait weeks or months for these invoices to be paid. In the meantime, you have skilled professionals to pay, supplies to purchase, and all sorts of other expenses piling up. Something as simple as a temporary patient load increase or an unexpected bill may make it impossible for your facility to continue to provide care.
Instead of waiting for payment, you'll simply send the unpaid invoices of your choosing to a factoring company, which then immediately advances most of their value to you. When the payor clears their bill, the factoring company holds a small fee and sends you the remainder.
Types of Medical Providers That Leverage Invoice Factoring
Virtually any medical provider or facility that bills large companies or corporate entities can leverage invoice factoring. A few examples include:
Behavioral Health Providers

Cancer Care Centers

Compounding Pharmacies

Diagnostic Imaging Centers

Durable Medical Equipment Companies
Home Healthcare Agencies

Hospices

Hospitals

Medical Labs

Medical Offices
Nursing Homes

Physical Therapy & Rehabilitation Centers

Physicians & Physician Groups

Substance Abuse Treatment Centers

Surgery Centers
Invoice Factoring for Companies Supporting the Healthcare Industry
Because care providers often have challenges getting their invoices paid promptly, it's no surprise that many are slow payers themselves. Moreover, larger facilities often require multiple signatures before an invoice can be paid. As someone who serves the medical industry, these issues can easily push your payment out 60 or 90 days.
The good news is that you don't have to wait for payment either. You can comfortably give your clients the time they need to pay their invoices and maintain positive relationships through invoice factoring. Just send unpaid invoices and documentation to your factoring company when goods are delivered, or services are rendered. Your factoring company will advance most of the cash to you and wait for payment. They'll even collect for you to free you from tedious back-office processes. As with the other forms of factoring, your factoring company will hold a small fee once your client pays the balance, then send the remaining cash to you.
Types of Healthcare Companies That Leverage Invoice Factoring
Most companies that support the healthcare industry can leverage invoice factoring. A few examples include:
Medical Billing Services

Medical Labs

Medical Staffing Agencies

Medical Supply Companies

Medical Transcription Services
Benefits of Invoice Factoring for Healthcare Companies
Invoice factoring works differently than most funding solutions, so it can also help your business in unique ways. A few benefits of invoice factoring for healthcare companies include the following:
Flexibility: You choose which invoices to factor and when to factor them. Many invoice factoring companies have no monthly minimums, so you have greater control over your finances.

Scalability: Factoring scales with you during high-volume periods and as your business grows.

Stronger Relationships: Keep your teams and vendors happier with prompt payments.

Growth: Secure lucrative contracts with strong payors that traditionally have longer payment windows without worry of when you'll be paid.
How Healthcare Companies Use Factoring
Healthcare companies use invoice factoring in many different ways depending on business needs. A few ways businesses like yours put their factoring cash to work include:
Staffing: From making payroll to recruitment and paying staffing agencies, invoice factoring makes it easy to ensure you always have the right people ready to work.

Legal Requirements: Licensing fees, insurance premiums, and other legal requirements can add up, but a cash injection can ensure you stay compliant.

Equipment and Supplies: As the cost of equipment and supplies continues to climb, factoring can ensure your team has everything they need to deliver top-notch care or operate at peak efficiency.

Expansion: Accelerate cash flow to complete renovations or reach new markets, knowing that the increased revenue will help your business grow.
Bank Loans vs. Invoice Factoring for Medical Companies
You have lots of options when it comes to financing for your healthcare company. Traditional loans, lines of credit, equipment financing, and SBA loans can all be reasonable solutions depending on your circumstances and needs. Because of its distinct characteristics, there are also times when healthcare factoring might be best.
Healthcare Invoice Factoring Works Differently
Healthcare factoring works differently than loans and lines of credit. Here's how:
Easy Qualify:

Most healthcare companies

qualify for factoring

because your client's creditworthiness has more bearing on the decision than yours. For instance, you'll likely qualify if you're billing government entities such as Medicare and Medicaid or insurance companies. The same is true if you're billing hospitals or large medical facilities.

Fast Approval:

You can be approved for factoring in as little as a day.

Instant Funding:

Most factoring companies will have the cash to you in about two business days after you submit your invoice. Some even offer same-day funding.

No Debt: Factoring is not a loan. Your client pays the balance when they pay their invoice. That means you're always moving forward, not struggling to pay off debt and interest you accrued yesterday.

More Flexibility: Factoring doesn't tie you down. You can sign up and wait months to factor, factor once and then never again, or factor some or all your invoices on an ongoing basis. The choice is yours.
Additional Services to Support Your Business Growth May Be Available
Each factoring company offers its own set of solutions. Some value-added services commonly provided by healthcare factoring companies include:
Credit Checks: Make informed decisions about how much work you accept or the value of goods delivered to avoid bad debts with client credit checks.

Invoice Preparation: Outsource invoice preparation to your factoring company to save time and money.

Collections: With streamlined billing, digital payments, and white-glove service, your invoice factoring company can accelerate payments and improve your client experience by managing collections for you.
Tap into Additional Healthcare Business Funding Solutions as Needed
Business funding needs change over time. Many healthcare factoring companies provide additional funding solutions to support you throughout your journey. In addition to invoice factoring, you may also be able to access:
Get a Free Medical Factoring Quote
Request a Factoring Rate Quote