Arizona Factoring Companies
Factoring companies in Arizona provide convenient and accessible financing services to an array of businesses operating in the rapidly-growing economy of this largely rural State.
Agriculture has long been an essential industry in the state, with Arizona being a major producer of cotton, citrus fruits, and cattle. That said, the economic focus has shifted from an agriculture and mining-centric business environment into a more modern, technology-driven direction – especially over the last few decades. Home to Boeing, Arizona is a center for the aerospace industry. The technology industry is also prominent, with major players like the technology giant Intel operating from a large campus in Chandler.
Factoring companies help businesses in the following industries improve their cash flow and meet their financial obligations:
Aerospace and defense industry

Healthcare industry

Tourism sector
Wherever your business is based in Arizona, whether in Phoenix, Tucson, Sedona, or elsewhere in the 'The Grand Canyon State,' factoring companies in Phoenix and in other towns and cities across Arizona have cash flow solutions you need to stay competitive in a growing economy.
Invoice Factoring Services in Arizona
Arizona's factoring companies provide a range of services to their clients.
Spot factoring services in Arizona are suitable for businesses that need a quick advance on one of their invoices (for inventory for a new order, for example) but won't need the cash advance on a recurring basis. Spot factoring allows you to submit invoices as you need to without committing to a long-term contract.
Recourse factoring in Arizona is the lowest-cost option for monthly factoring, but it requires your business to bear the credit risk of a customer defaulting on invoice payments.
Non-recourse factoring is another option for Arizona businesses. This factoring type is rarer and slightly more expensive because the factoring company assumes the credit risk of customers defaulting on factored invoices. 
To ensure the creditworthiness of customers, factoring companies conduct credit checks for your business and offer accounts receivable management, including invoicing, payment processing, and reporting. Arizona Factoring companies also offer collection services, taking the responsibility of collecting payments from customers off of your shoulders and freeing up your valuable time.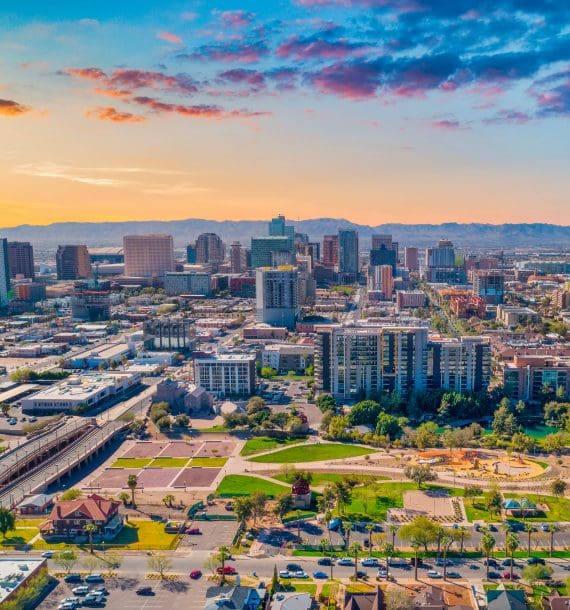 Accounts Receivable Financing in Arizona
Arizona businesses have several accounts receivable financing options to choose from, including invoice financing, asset-based lending, and merchant cash advances.
Invoice financing, while similar to factoring, functions more like a loan. Instead of the factoring company assuming ownership of your invoices, you will be using your unpaid invoices as collateral for a loan that you will need to repay at a later date, with interest. You will also still be responsible for collecting payments from your customers.

Asset-based lending allows your business to use its valuable assets, such as equipment, invoices, inventory, or property, as collateral for a loan. They can be relatively easy to get, but you will need to consider the risks (such as losing your assets, keeping up with payments, and potentially damaging your credit) before you commit to this financing option.

Merchant cash advances provide upfront cash for a percentage of your daily credit card sales. MCAs can be a useful option for businesses that need capital quickly and do not qualify for traditional loans. However, they can also be a more expensive option due to the high fees and interest rates associated with this type of financing.
If you're looking for a financing option that offers the convenience and accessibility of the above choices without the drawbacks, factoring offers instant, interest-free cash advances without the need for cumbersome processes, credit checks, collateral, or long waiting times for approval.
Factoring companies can help businesses effectively manage their cash flow by providing a reliable source of funding for their unpaid accounts receivable. By choosing a reputable factoring company in Arizona, your business can access fast and flexible funding to meet its urgent cash flow needs without putting your assets or customer relationships at risk.
Small Business Loans in Arizona
There are a few options for small business loans in Arizona. These include traditional bank loans and microloans.
Not all small businesses in Arizona are eligible for bank loans, as it hinges on credit checks and collateral availability. Moreover, small business loans carry high-interest rates, making factoring the less expensive option. Factoring services are offered for a fee, but in comparison to the interest, fees, and risks of traditional financing, the pros still outweigh the cons. And, with all the additional benefits of factoring, you save money on your accounts receivable processes, have extra time to focus on growing your business, and you won't damage your credit. These factors easily justify the small factoring fee you will pay.
Arizona's Business Economy
During the pre-World War II era, Arizona's economy was dominated by primary production — mines, lumber, cattle, and crops. Throughout the 1950s and 1960s, the economy shifted toward manufacturing and services, better reflecting the country's growing affluence and technology. This is especially true for the Phoenix region, where a vibrant high-tech economy has developed. The tourism industry is also a vital contributor to the state's economy, with attractions such as the Grand Canyon, Sedona, and Phoenix drawing millions of visitors each year. 
Overall, Arizona has a healthy business economy with ample room for small business growth. However, the largely rural, mining, and tourism sectors in Arizona all face unique challenges in trying to achieve this growth. With inflation and rising logistics costs putting pressure on manufacturing, agriculture, tourism, and retail sectors, innovative financing services (such as factoring) are increasingly at the forefront of supporting small businesses.
Factoring companies in Arizona offer factoring services as a way for small businesses to get the operative capital they need to thrive, especially those that struggle to obtain traditional loans. They also handle administrative tasks such as invoicing and payment processing, enabling businesses to focus on core operations. Additionally, credit checks and collection services help ensure that businesses can effectively manage their accounts receivable, no matter how busy they are. 
Arizona factoring companies are an excellent resource for businesses seeking to optimize their cash flow and minimize administrative burdens in the current business economy.
Factoring Companies in Arizona:
Triumph Business Capital

Interstate Capital
If your business needs a cash flow boost to navigate the competitive business economy of Arizona, invoice factoring is one of the best steps you can take. Learn everything you need to know about how the process works in this Factoring Guide, and when you're ready to select a factoring company, get in touch with the Invoice Factoring Guide team. We have all the resources you need to find the perfect factoring company for your needs. Request a complimentary rate quote today to get started!
Request a Factoring Rate Quote