Invoice Factoring for Printing Companies
The printing industry is constantly evolving, calling for innovation in keeping up with new technologies, trends, and customer demands. Unfortunately, as with most fast-paced business landscapes, there are always challenges to navigate, but perhaps the biggest challenge of all is ensuring a steady cash flow.
You need to purchase supplies, pay your staff, and cover overhead costs, all while waiting for your customers to pay their invoices. This can put a strain on your finances, making it difficult to keep your business running smoothly. Fortunately, invoice factoring is a practical solution that can help improve your cash flow and alleviate the financial strain.
As a printing company owner, you may have heard of this financing option, but do you know how it can benefit your business? Let's take a closer look.
Printing Company Invoice Factoring vs. Bank Loans
When it comes to financing options, traditional bank loans are usually the first consideration. However, there are a number of advantages that make Invoice factoring the better option for printing companies.
Here are some of the key differences:
Approval: Bank loans can be difficult to obtain, particularly if you have a poor credit score or limited track record. Invoice factoring is based on the creditworthiness of your customers, not your own credit score, making it easier to be approved even if you're a startup or have a less-than-perfect credit history.

Speed: Bank loans can take weeks or even months to process, while invoice factoring can be done in a matter of days. If you need cash quickly, invoice factoring is often the better option.

Cost: Bank loans often come with fixed interest rates, which can accumulate over time and make them more expensive in the long run. In contrast, invoice factoring has a factoring fee that is typically lower than loan interest, and there are no interest charges or hidden fees.

Flexibility: Bank loans are often structured with fixed repayment terms and may not be flexible enough to meet your changing cash flow needs. Invoice factoring, on the other hand, allows you to submit as many or as few invoices as you need, depending on your cash flow needs. This flexibility can be especially valuable for printing companies that experience seasonal fluctuations in demand.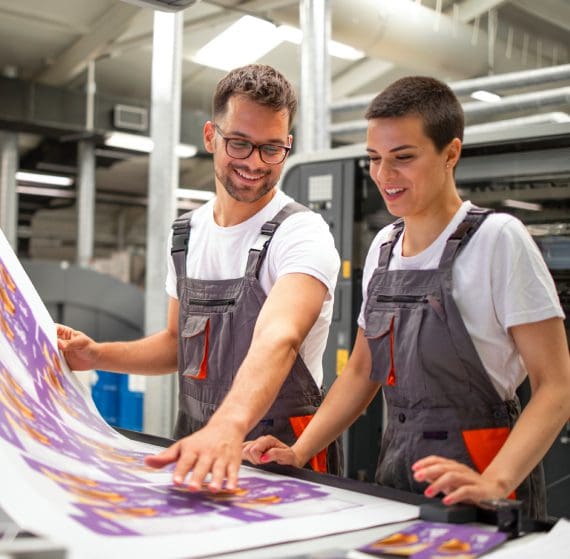 Top Challenges in the Printing Industry
The printing industry is facing several challenges that have resulted in increased costs, unpredictable workflows, and pressure on their margins. Here are three of the most pressing:
Supply Chain Disruptions: Lower availabilities of the necessary printing grades, increased paper demand, labor shortages, and excessive delays are just some of the supply chain challenges. Disruptions to printing supply chains have led to many printing businesses needing to offer slower or more expensive services, negatively impacting their customer relationships.

Adapting to Changing Customer Demands: To turn a profit in this competitive sector, printing companies must optimize their production efficiency, reduce indirect expenses, and maximize their workforce productivity. In addition, customers now demand better quality, faster, and cheaper services. As mentioned above, print businesses that haven't been able to adapt to the new market challenges are being forced to offer worse, slower, and more expensive services.

Managing Cash Flow and Productivity: Printing businesses need to manage their cash flow and profitability effectively to remain competitive in the industry. This includes ensuring that they have enough cash on hand to operate and invest in growth opportunities, as well as managing costs and maximizing profits.
Invoice factoring can help printing businesses overcome these challenges by providing quick access to cash, improving cash flow management, and providing opportunities for growth. By having cash on hand, printing businesses can pay their suppliers on time, purchase raw materials, and invest in business growth opportunities.
How to Run a Successful Printing Company
If you want to be successful in the printing industry, consider adopting these best practices:
Invest in Innovative Equipment to improve your processes and service delivery, but make sure to investigate affordable options that offer a good ROI.

Focus on B2B Clients: B2B clients tend to be more profitable than B2C clients, so focus your efforts on building relationships with them.

Research the Market: Thoroughly research the market and use digital marketing and tools to target a niche group of clients. This can help you stand out from competitors and attract more business.

Improve Solvency Ratio: Improve your solvency ratio to qualify for bank loans, and at the same time, explore alternative funding solutions such as invoice factoring.
By adopting these practices, you can set your printing business up for success in a highly competitive industry. Invoice factoring, in particular, can help you manage your cash flow and remain competitive, providing you with quick access to cash and opportunities for growth.
Financing Options for Printing Companies
Printing companies may need financing to purchase equipment, expand their operations, or manage their cash flow. Here are some common financing options that printing companies may consider:
Equipment Leasing & Financing: Printing companies can lease or finance equipment to conserve capital instead of purchasing expensive equipment in one shot, but interest rates and fees may be higher than other financing options.

Asset-Based Lending (ABL): ABL financing allows printing companies to use their tangible assets as collateral for a loan. However, it may require regular appraisals and generally has a lower loan-to-value ratio than other options.

Lines of Credit: Lines of credit provide flexibility for printing companies to access capital as and when it is needed, but this option may require collateral and generally includes high interest rates and fees.

Invoice Factoring: Factoring invoices can provide quick access to cash and improve cash flow management without incurring debt or requiring collateral, making it a flexible and cost-effective financing option for printing companies.
If you're looking for a factoring company to help your printing company stabilize its finances and expand its operations, our team at Invoice Factoring Guide (IFG) has you covered.
Explore our website to compare industry-specific factoring companies from throughout the country, use your Factoring Guide to learn important information about factoring in your industry, or request a free rate quote for help finding the best funding partner for your business.
Take the first step towards a more secure financial future with invoice factoring for your printing company. Contact us today!
Request a Factoring Rate Quote