Invoice Factoring for Freight Brokers
As a freight broker, you're the important liaison between shippers and motor carriers. You help manufacturers, wholesale distributors, farms, and food producers find the right trucks to transport their goods safely while also finding loads for trucking companies. 
The relationships you support among these businesses are vital to keeping our economy moving. But with challenges like inconsistent cash flow, finding and retaining talent, and building a reliable carrier base, you need a financial solution that caters to your unique needs. That's where invoice factoring for freight brokers comes in, providing immediate cash and helping you tackle the challenges of the freight brokerage industry.
Freight Brokers Factoring vs. Bank Loans
When it comes to financing your freight brokerage, you have a few options. Traditional bank loans may seem like a go-to choice, but they often come with strict credit requirements and lengthy approval times. Plus, they can put a strain on your business credit. On the other hand, freight broker factoring offers:
Faster accounts receivable payments that improve your cash flow

No need for collateral or perfect credit

Fuel advances and fuel discounts to help you manage fuel costs

Increased flexibility to grow your business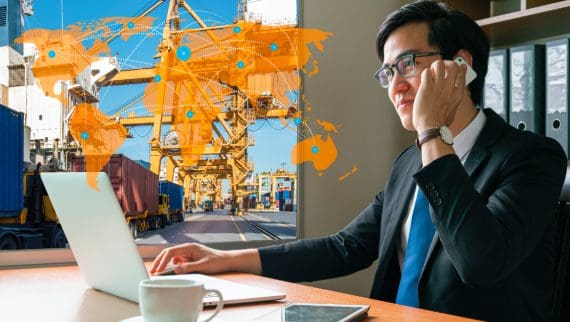 Top Financial Challenges in the Freight Broker Industry
Freight brokers face several unique challenges that need careful consideration:
Managing inconsistent cash flow: Delayed client payments can strain your business's finances, making it difficult to cover operational costs and pay carriers on time.

Mitigating the risk of not getting paid by clients: Some clients may default on their payments, leaving you to cover the expenses.

Attracting and retaining top talent: Finding skilled employees who are knowledgeable about the freight brokerage industry and can contribute to your company's success is crucial.

Developing and maintaining a reliable carrier base: Building a network of dependable carriers ensures consistent, high-quality service for your clients.

Controlling high operating costs: Fuel expenses, insurance, and other costs can add up quickly, impacting your bottom line.

Balancing the needs of shippers and carriers: Ensuring both parties are satisfied and maintaining positive relationships are essential for long-term success.

Adapting to changing industry regulations and technological advancements: Keeping up with new rules and utilizing the latest technology can give you a competitive edge in the market.
How to Run a Successful Freight Broker Company
Running a successful freight brokerage requires a combination of industry expertise, strong client relationships, and smart financial management. Here are some tips to help you thrive:
Build a reliable carrier base to ensure consistent, high-quality service

Foster strong relationships with both shippers and carriers

Understand the importance of timing in the transportation industry and focus on meeting deadlines

Leverage invoice factoring for freight brokers to maintain cash flow and ensure carriers are paid promptly

Use technology to streamline operations, such as integrated online freight-matching load boards

Offer competitive rates to shippers while still maintaining profitability

Stay informed about industry trends and regulations to maintain compliance
Financing Options for Freight Brokers
As a freight broker, you have various financing options to help your business grow and overcome industry challenges:
Traditional bank loans: These are usually the first consideration for companies that need a cash flow boost, but lengthy approval times and strict credit requirements may not suit every business

Lines of credit: Offer flexibility but may have higher interest rates and collateral requirements than bank loans.

Business credit cards: Credit cards are convenient and can be useful for short-term financing, but they also come with high-interest rates that are difficult to keep up with, and they negatively impact your credit score

Merchant cash advances: MCAs provide quick funding by allowing you to get a cash advance that you repay with a percentage of your sales, but they can be expensive and have high fees

Factoring for Freight Brokers: A flexible, fast, and effective solution to manage cash flow, pay carriers on time, and fuel your business growth
By opting for invoice factoring for your freight brokerage, you can overcome the challenges of the industry and focus on growing your business, ensuring continued success in a competitive market.
Make an informed decision when choosing a freight factoring company to partner with by learning everything you need with this Factoring Guide. 
Alternatively, contact the Invoice Factoring Guide (IFG) team today, and we will find the best freight broker factoring company for your needs. Request a complimentary rate quote now!
Using Factoring to Boost Your Freight Brokerage
In the busy world of freight brokerage, it's crucial to maximize your operational capabilities. Choosing factoring services from well-known factoring companies for freight brokers can be key to maintaining steady cash flow. This helps you pay carriers quickly and onboard new customers confidently. As a freight broker, moving goods from the dock to the delivery point comes with its financial ups and downs. Yet, invoice factoring offers a way to turn your unpaid invoices into quick cash, bypassing the delays of conventional financial routes.
Freight factoring companies can advance up to 95% of the invoice value for a small factoring fee, enabling you to pay your carriers promptly. Fast payments strengthen trust between you and your carriers, making your brokerage a dependable part of the logistics process. Both recourse and non-recourse factoring give you the choice to select the risk profile that fits your business best. Whether you're a new freight broker or an experienced one, factoring provides the financial strength to expand your business and build relationships with new carriers and shippers.
The factoring process is designed to let you concentrate on your core brokerage activities. Submit your unpaid invoices to a factoring company, and in no time, you'll have the funds in your account. Quick cash flow is essential in attracting and keeping the best carriers, building a strong logistics network. Some factoring companies even offer extras like fuel card programs, which can help manage fluctuating fuel expenses.
Selecting the right factoring company is essential. It requires examining the factoring rates, services, and reviews of top factoring companies for freight. A top-notch factoring company doesn't just offer financial support but also handles invoice processing and collections, freeing you from administrative tasks.
Working with a factoring company offers a myriad of benefits for freight brokers, particularly through specialized freight broker factoring services. Freight brokers use factoring to maintain consistent cash flow, as factoring companies provide immediate funds instead of waiting for the slow-paying invoices to clear. This freight broker program is essential in the logistics industry where cash on hand is critical for smooth operations. Factoring helps bridge the gap between shipment delivery and payment, allowing brokers to reinvest in their businesses without interruption. The types of factoring services can vary, but the core advantage remains the same: the factoring provider purchases your unpaid freight bills and assumes the risk associated with the payment collection, offering peace of mind and financial stability to freight brokers. By choosing to use freight broker factoring services, brokers can enjoy the benefits of factoring, such as improved cash flow, risk mitigation, and the ability to focus on growing their client base.
In summary, factoring gives freight brokers a solid option to enhance their financial position, build trust with carriers, and create a favorable environment for successful freight operations. So, in the intricate world of freight brokerage, factoring might be your key to a financially sound and smooth-running business model.
Request a Factoring Rate Quote