Oregon Factoring Companies
Oregon, the land of lush forests and breathtaking coastlines, is the ideal location for businesses across a range of industries. From agriculture and manufacturing to food processing and tourism, the Beaver State offers a diverse list of opportunities for entrepreneurs and business owners. That said, without the necessary cash flow, taking advantage of all the business opportunities in this state can be difficult.
Oregon factoring companies can help businesses like yours with their cash flow needs, even if you don't qualify for a traditional loan. By using invoice factoring, you can unlock funds tied up in unpaid invoices and use them to purchase stock, pay wages, start saving, and cover other urgent business expenses.
Factoring services are available for businesses in most B2B industries, including:
Invoice Factoring Services in Oregon
Have you been to the bank or another type of conventional lender, looking for money to support your operations or cover unexpected monthly expenses, only to be rejected? Factoring is notoriously easy to be approved for. You can get cash from factoring companies in Oregon based on the quality of your customer invoices, whether you have a good credit score or not.
When you sell your invoices to a factoring company, there is no debt to repay, and the cash is yours within a few days. What are the factoring options available to Oregon businesses?
With invoice factoring, there's no debt to repay, and you'll receive the cash within a few days. Let's explore the factoring options available to Oregon businesses:
Spot Factoring: If you need funds for a single transaction without a long-term commitment, spot factoring is the right choice.

Regular Factoring: Regular factoring is a long-term arrangement where a business sells all or a significant portion of its invoices to a factoring company, providing consistent cash flow. The factoring company advances a percentage of the invoice amount upfront, collects payment from debtors, and returns the remaining balance, minus fees, to the business. It's suitable for businesses needing ongoing cash flow support and a long-term relationship with a factoring company.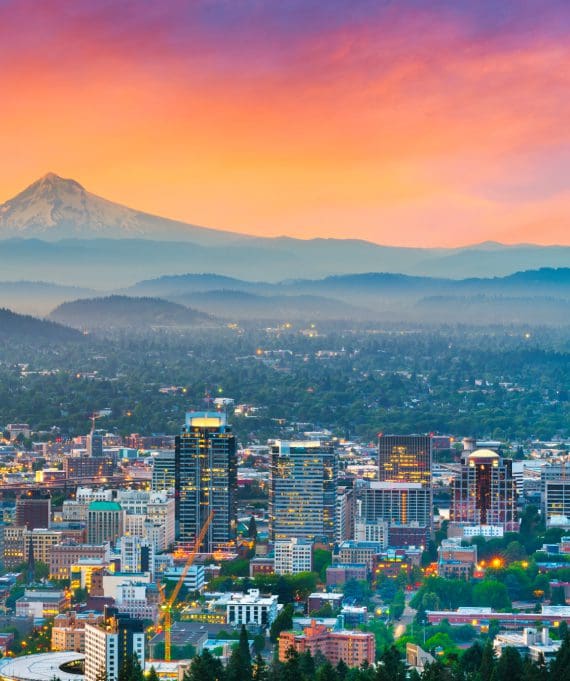 Do you value your customer relationships and prefer to handle the engagement yourself? Depending on the type of factoring you choose, the risk and the client engagement differ. Consider these factoring options:
Recourse Factoring: With this invoice factoring option, you're held responsible if the debtor doesn't pay the invoice held by the factoring company. They must, however, make every effort to ensure repayment. This option offers lower fees.

Non-Recourse Factoring: In this case, the factoring company takes responsibility for the non-payment of invoices by debtors. This option has lower risks for your business but comes with higher factoring fees.
Accounts Receivable Financing in Oregon
While invoice factoring is a popular choice for many businesses in Oregon, there are other accounts receivable financing options available as well. Let's explore two alternatives that can provide additional funding for your business:
Asset-based financing: Asset-based lending allows businesses to use their assets, such as accounts receivable, property, or inventory, as collateral to secure financing. Lenders typically prefer highly liquid collateral like securities to cover any payment defaults. While this option offers financing, it's important to remember that these loans need to be repaid, unlike invoice factoring, which provides a cash advance without adding debt to your balance sheet.

Invoice Financing: Invoice financing is another option that helps businesses improve cash flow by borrowing against their outstanding invoices. In this case, a lender provides a cash advance based on the value of the invoices, and the business repays the loan as customers pay their invoices. Although similar to invoice factoring, invoice financing is distinct in that the business retains control over invoice collections and is responsible for repayment. This option might be suitable for businesses looking for more control over their collections process, but keep in mind that it also involves repayment, which may not be as flexible as the cash flow benefits provided by invoice factoring.
While there are other receivables financing options, factoring is still one of the more popular choices for many Oregon businesses because of its flexibility and ability to improve cash flow without adding debt.
Small Business Loans in Oregon
As so many of Oregon's businesses are small companies, there is a focus on supporting their development and growth with accounting, planning, strategy, and marketing advice. Several small business loan options are also available through the Oregon Small Business Development Center (SBDC) network. The types of business loans put forward include:
Microlenders: These lenders provide smaller loans to businesses that may not qualify for traditional financing, offering a more accessible funding source for startups and small enterprises.

Traditional Banks: Banks provide various loan options, including term loans and lines of credit, catering to the diverse needs of small businesses.

Oregon Economic Development Districts: These districts offer financing programs tailored to the specific needs of businesses in their respective regions, supporting local economic growth.

Small Business Administration (SBA) Loans: The SBA offers several loan programs designed to help small businesses access financing more easily, with partial government guarantees making these loans more attractive to lenders.
Oregon Business Economy
Oregon boasts a pro-business climate that fosters growth and innovation. While there are a number of large and established businesses, Orgegon's business climate is made up mainly of small businesses. As a result, the government offers extensive support through incentive programs and a favorable tax system tailored to the needs of small businesses.
To drive economic growth, Oregon has identified several key industries to focus on, including metals and machinery, business services, food and beverages, forestry and wood products, bioscience, high technology, and outdoor gear and apparel.
In this thriving business environment, invoice factoring companies play a crucial role in supporting the financial needs of small businesses. By partnering with an Oregon factoring company, you can unlock the cash tied up in your customer invoices, giving you the necessary funds to invest in your business's growth and success. With many Oregon factoring companies eager to work with you, you'll find the ideal financial partner to help your business thrive in the Beaver State.
Factoring companies in Oregon:
Steelhead Finance

Orange Commercial Credit

Eagle Business Credit

The Commerce Bank of Oregon
Have you been researching factoring companies in Oregon? Read through this Invoice Factoring Guide to learn more about invoice factoring and how to find the ideal factoring partner in Oregon.
Make sure you do enough research, though, because with so many factoring companies to choose from, it's easy to make the wrong choice. If you're short on time or just want to skip the research phase, we can handle the entire process for you. The Invoice Factoring Guide (IFG) team can provide expert assistance and help you select the best factor for your company's unique requirements. Don't hesitate to reach out to us today help finding the right Oregon factoring company!
Request a Factoring Rate Quote