Invoice Factoring for Government Contractors
Working as a government contractor can be a two-faced coin, with the potential to bring both fortune and frustration. As a government contractor, you know that federal, state, and local government agencies are major clients, offering plenty of opportunities for stable, long-term revenue. However, on the flip side, you will also need a carefully crafted strategy to overcome the cash flow challenges you could face by accepting a government contract.
Whether your contract is for manufacturing or providing a service, you know that you won't be paid until the job is complete. Yet, you still have overheads and supplies to pay for, as well as higher wages for contractors and workers. Unfortunately, government agencies are known to take at least two to three months to pay their invoices due to all their internal approval processes. You can't be too pushy in following up on payment, nor can you expect an advance or downpayment before you start the work – these contracts are highly competitive, and the agency could easily choose from any number of other contractors.
So, how do you balance keeping the government contract provider happy while still having enough cash flow to keep your business running? Government contractor factoring.
Government Contractor Factoring vs. Bank Loans
Given the lengthy payment turnaround associated with government contracts, it's clear that financing options like bank loans with similar turnaround times are not the most suitable for government contractors. You need to keep your business running smoothly while waiting for your invoices to be paid. One option to consider is government receivables factoring, which can provide immediate cash flow and take the burden of collections off of your business.
Factoring companies can give you an advance on your unpaid invoices, providing immediate funding to cover expenses like payroll and materials. Unlike bank loans, factoring approvals are based on the creditworthiness of your clients, not your business. Plus, factoring companies often offer collection services, freeing up your time to focus on other areas of your business.
So, if you're looking for a fast and easy financing option, government contractor factoring may be just what you need!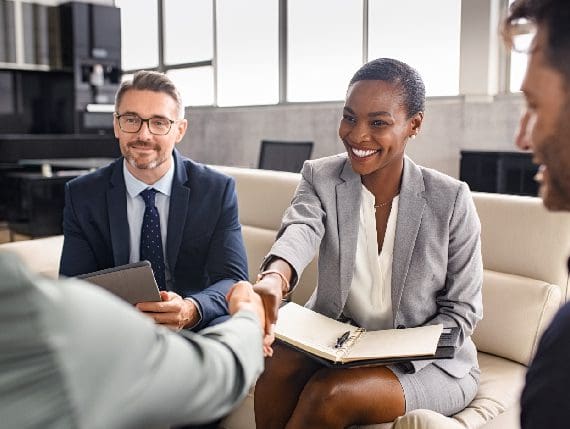 Top Financial Challenges in the Government Contractor Industry
On top of the cash flow challenges and slow payment times, there are several challenges that contractors in this industry face:
Labor market challenges: The labor market is tight, so finding qualified personnel to meet the requirements of your government contracts can be difficult, leading to delays and increased costs.

Supply chain concerns: Government contracts often require contractors to work with specific suppliers or vendors, which can limit options and increase costs.

Inflation: Inflationary pressures are rising, leading to increased costs for materials and labor.

Government contracting penalties: You need to adhere to the specific requirements and regulations set forth by the government agency to maintain compliance and avoid penalties. Failure to comply with government regulations can result in various consequences, such as contract termination, financial penalties, loss of future opportunities to bid on a project, and even criminal charges.
How to Run a Successful Government Contractors Company
Running a successful government contracting business requires a mix of financial acumen, industry knowledge, and networking skills. Here are some tips for success:
Build a strong financial foundation:
Choose a financing option that fits your business needs, such as invoice factoring or government contract financing.

Develop a budget and track your expenses to ensure profitability.

Establish strong relationships with financial institutions and accounting professionals.
Understand the government contracting landscape:
Stay up-to-date on industry trends and changes in government regulations and policies.

Develop relationships with government agencies and contracting officers.

Seek out industry associations and networking events to stay connected with your peers.
Recruit and retain top talent with the skills and security clearances needed for your contracts.

Foster a culture of innovation and collaboration.

Provide ongoing training and professional development opportunities.
Financing Options for Government Contractors Companies
When it comes to financing options for government contractors, there are several choices to consider.
Asset-based lending (ABL): Asset-based lending uses your company's assets (property, equipment, inventory, invoices) as collateral for a loan, but the approval process is long, and defaulting on the loan could result in the loss of your collateral.

Small Business Administration (SBA) loans: SBA loans are government-backed loans designed to help small businesses. These loans offer low-interest rates and long repayment terms, but they often require extensive documentation and can take several weeks or months to process. SBA loans also typically require a personal guarantee from the business owner.

Factoring: Factoring government receivables provides quick and easy access to cash flow without collateral or extensive documentation. You receive a percentage of the invoice value upfront, and the factoring company handles collections and AR management.
While all these options have their benefits, factoring can provide government contractors with the most immediate and accessible cash flow. Plus, with factoring, you don't have to worry about defaulting on a loan and losing your collateral or having any debt on your balance sheet.
The government contracting industry has many unique and strict challenges to navigate. Therefore, you need a financing partner that understands this industry's specific regulations, challenges, and opportunities so that your factoring agreement can be tailored to your exact requirements.
Invoice Factoring Guide (IFG) is here to help you find the perfect government contractor factoring partner. Explore our website to learn about industry-specific factoring options, and contact us today for a complimentary rate quote.
Let us help you find the best invoice factoring company for your government contracting business.
Request a Factoring Rate Quote