Invoice Factoring for Pallet Manufacturers
As a pallet manufacturer, managing cash flow can be a constant struggle, especially when you're trying to deal with slow-paying corporate clients who are demanding longer payment terms.
Running a successful pallet manufacturing business requires a lot of effort and capital investment. From managing the supply chain to dealing with customer orders, cash flow management is essential to keep the business running. However, late payments from clients can often cause cash flow problems, which can hinder your company's growth. With invoice factoring, you can get paid immediately for your outstanding invoices, rather than waiting 30-60 days for payment from clients.
With invoice factoring, you sell your outstanding invoices to a factoring company at a discount. The factoring company will then advance you a percentage of the invoice value upfront, typically up to 90%. They will then handle the collection of the payment from your customer, taking a small fee for their services.
Pallet Manufacturers Invoice Factoring vs. Bank Loans
Invoice factoring offers several advantages over traditional bank loans, especially for pallet manufacturers. Here are some of the differences between the two:
Approval process: Invoice factoring has a quick and easy approval process. The factoring company will typically only look at the creditworthiness of your customers, not your business's credit score. In contrast, bank loans require a lengthy approval process, including extensive documentation and credit checks.

Cash flow: With invoice factoring, you can receive cash within 24 hours, which can help you manage unexpected expenses or take advantage of growth opportunities. Bank loans may take weeks or even months to get approved and funded.

Collateral: Invoice factoring does not require collateral. Your outstanding invoices serve as collateral for the factoring company. Bank loans typically require collateral, which can put your assets at risk.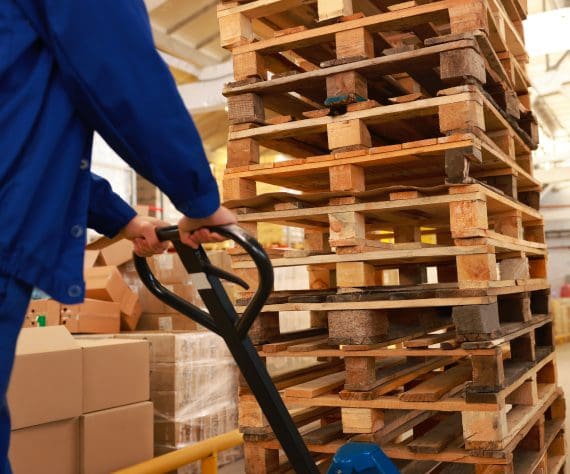 How to Run a Successful Pallet Manufacturing Company
Running a successful pallet manufacturing company takes more than just producing high-quality pallets. Here are a few points to keep in mind:
Develop a strong distribution strategy: Having an effective distribution strategy can help you reach a wider customer base and increase sales.

Invest in technology: Technology can help you improve efficiency, reduce costs, and stay competitive in the market.

Manage cash flow effectively: As mentioned earlier, managing cash flow is crucial for any business. You should clearly understand your cash flow and develop strategies to improve it.
Top Challenges in the Pallet Manufacturing Industry
Pallet manufacturing can be a challenging industry to operate in. Here are some of the top challenges you may face:
Rising costs of raw materials: The cost of lumber has increased significantly in recent years, making it difficult for pallet manufacturers to source the materials they need at an affordable price, negatively affecting profitability.

Supply chain disruptions: Supply chain disruptions, such as delays in raw material delivery or shipping, can impact your production schedules and cash flow.

High product demand: The demand for pallets is high, and manufacturers are struggling to keep up with orders because of the increase in raw material costs and supply chain disruptions. This can result in backorders and delays in getting invoices paid, which can lead to cash flow problems.

Labor shortages: The industry is struggling to find and retain skilled workers. Due to the shortage of workers, companies have to increase wages to attract and retain talent. This can result in higher labor costs, which can affect your company's profitability.
Invoice factoring can help you overcome these challenges by providing fast cash flow to manage unexpected expenses or invest in growth opportunities. You will also be able to attract skilled talent by offering more competitive wages, and you'll be able to maintain your customer relationships by offering them more favorable terms because you know that you will be paid immediately, either way.
Financing Options for Pallet Manufacturers
There are several financing options available for pallet manufacturers, including:
Bank loans: Traditional bank loans can provide long-term financing but can be difficult to obtain and require collateral.

Equipment financing: Equipment financing can help you purchase new equipment, but it may not provide the working capital you need to manage cash flow.

Invoice factoring: As mentioned earlier, invoice factoring provides fast cash flow and does not require collateral, making it an excellent option for pallet manufacturers.
Invoice factoring can provide the working capital you need to manage cash flow, take advantage of growth opportunities, and overcome industry challenges. With its quick approval process, fast funding, and low fees, it is an excellent financing option for pallet manufacturers.
If you're interested in invoice factoring to help improve the financial situation at your pallet manufacturing company, it's important to find a factoring partner that understands your business. Industry-specific factoring companies will know exactly how to navigate the challenges of the pallet manufacturing and distribution industry, making them better equipped to create customized solutions for your business. At Invoice Factoring Guide, our goal is to help you find the right factoring partner for your unique business needs.
Explore and compare industry-specific factoring companies on our website, or if you're ready to jump straight into factoring for pallet manufacturing and distribution companies, request a free rate quote!
Request a Factoring Rate Quote