Kentucky Factoring Companies
Kentucky – a state rich in history, renowned for its horse racing and being the birthplace of the world-famous Kentucky Fried Chicken – possesses a vibrant business landscape. With thriving industries like agriculture, manufacturing, healthcare, and transportation, the need for a reliable source of working capital is essential for businesses operating in the Bluegrass State. That's where Kentucky factoring companies come in, offering invoice factoring services tailored to the unique needs of businesses across all B2B sectors.
In Kentucky, invoice factoring can be particularly beneficial for:
The thriving agriculture industry, with a focus on horses, cattle, tobacco, and soybeans

The bustling transportation and logistics industry, supported by the state's extensive highway and interstate network
By leveraging invoice factoring services, businesses across these industries can access the quick cash needed to fund their operations and manage cash flow effectively, ensuring they continue to flourish in the vibrant Kentucky economy.
Invoice Factoring Services in Kentucky
Invoice factoring involves selling accounts receivable to a factoring company at a discount in exchange for immediate cash. Factoring companies typically advance 80-90% of the invoice value upfront, with the remaining balance paid once the invoices are paid by your customers. You can either sign a term factoring agreement, where you use the service on a recurring basis, and the factoring company takes over your accounts receivable processes, or you can use spot factoring if you only want to get an advance on a specific invoice.
With spot factoring, your business sells individual invoices to a factoring company for immediate cash on an as-needed basis. It is a useful option for businesses that have occasional cash flow issues and need a quick cash injection to cover expenses.
Factoring companies rely on how likely your customers are to pay their invoices, so to balance the cost of their services with the risk of giving your company financing, they offer factoring in two different ways.
Recourse Factoring Services: Recourse factoring is a type of invoice factoring in which your business remains liable for any unpaid invoices. If your customer fails to pay the factor, your business will need to repay the advance for that invoice. Because the credit risk stays with your company, this is the cheaper option.

Non-Recourse Factoring Services: Non-recourse factoring is a type of invoice factoring in which the factoring company assumes the risk of non-payment. So, if your customer fails to pay their invoice, the factoring company absorbs the loss, and your business won't be liable for repayment. As the factoring company assumes most of the risk, this is the more expensive type of factoring.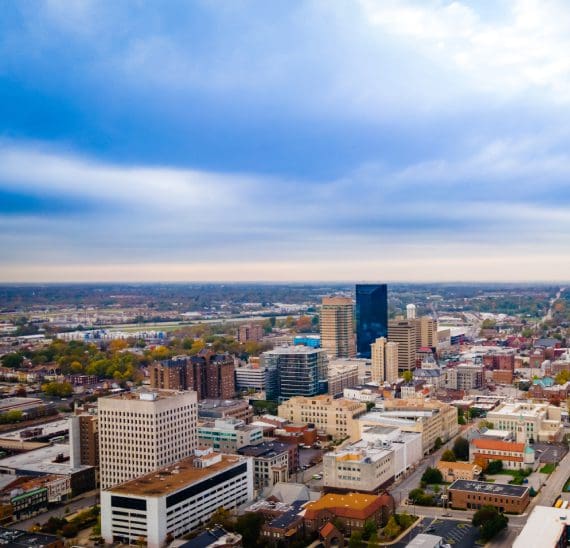 Accounts Receivable Financing in Kentucky
Some factoring companies offer alternative financing options, in addition to factoring, to give small businesses a choice of which one best suits their needs.
Accounts receivable financing involves using your accounts receivable as collateral for a loan. The factoring company advances a percentage of the value of the accounts receivable, with your business repaying the loan over time.
Asset-based lending is another financing option available to businesses in Kentucky. It is a type of financing that involves using your business's assets, such as inventory, invoices, equipment, or real estate, as collateral for a loan. The loan amount is based on the value of the assets, and your business repays the loan over time.
There are also merchant cash advances, a type of financing in which you receive a lump sum of cash in exchange for a percentage of your future sales. It is mainly used by businesses that have a high volume of credit card sales, such as restaurants or retailers.
Small Business Loans in Kentucky
Small business loans in Kentucky provide another financing alternative for businesses seeking to grow and expand. Offered by banks and other financial institutions, these loans can be used for various purposes, such as purchasing equipment, hiring employees, or extending operations. However, small business loans often involve collateral, like personal or business assets, and can come with a lengthy application process.
For many businesses in Kentucky, invoice factoring may be a more attractive financing option than traditional small business loans. Factoring companies offer several advantages, including:
Faster funding with minimal paperwork

No collateral requirements

No need for an extensive credit history or strong financial statements
These benefits make it easier for new or struggling businesses to access the funding they need, ensuring they can continue to grow and thrive within the competitive Kentucky market.
Kentucky's Business Economy
In terms of its Gross Domestic Product (GDP), Kentucky's economy is the 34th largest in the United States, with a GDP of $201 billion in 2022. The state's economy is primarily driven by industries such as manufacturing, healthcare, and transportation. While Kentucky's economy is significant, its residents' median income is below the national average. There are disparities in wealth within the state, with some areas being more affluent than others, which may affect businesses that choose to locate in unpopular areas.
Factoring companies can be used by these businesses in various industries to improve their cash flow and manage their finances. Compared to small business loans, factoring offers faster funding, minimal paperwork, and no collateral requirements, making it a more attractive option for businesses in need of quick cash.
Factoring Companies in Kentucky:
BlueVine

Prestige Capital

altLine
To be sure you're making an informed decision when choosing a factoring company, read through this Factoring Guide to learn more about invoice factoring and how to find the ideal factoring partner in Kentucky.
If you're ready to get started with invoice factoring, request a free rate quote below, and the Invoice Factoring Guide team will help you find the right Kentucky factoring company for your needs.
Request a Factoring Rate Quote