Is PRN Funding the Right Factoring Company for You?
Operating a business in the healthcare industry is not cheap, so many businesses will find themselves in a position where they need to turn down new contracts because they don't have enough working capital to meet their payroll expenses, hire new staff, or cover their other costs.
Operating solely in the healthcare sector, the PRN Funding team are healthcare factoring experts that help companies in this industry turn their receivables into immediate cash. Now you don't have to wait for slow-paying clients or worry about the subsequent cash flow issues that limit your growth potential.
About PRN Funding Factoring Services
Finding a factoring company with a focus on one industry can be like finding a needle in a haystack, but the benefits are worth the effort. Thanks to PRN's focus on helping companies exclusively in the healthcare sector, they have developed a deep understanding of the unique challenges medical businesses face on a day-to-day basis. This understanding, coupled with a decade's worth of experience, has equipped PRN Funding to provide tailored solutions that meet the specific needs of each client.
Through factoring, which involves purchasing accounts receivable, PRN Funding offers cash flow solutions that can help healthcare businesses grow and compete effectively in the industry. They offer immediate cash, quick and simple approval, flexible terms, and debt-free financing to a variety of sub-sectors within the healthcare sphere, including: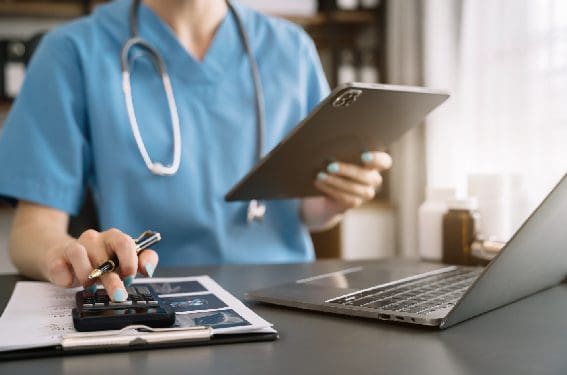 PRN offers the ultimate factoring flexibility to their clients, allowing you to choose when to factor your invoices, how many you would like to submit, as well as how long you'd like your contract to be. There are no fixed-term contracts to sign, so you can start factoring at any time and receive your cash advance within a few hours of invoice verification.
Additional benefits of PRN Funding's factoring services include:
Real-time access to their online accounting and reporting system, 24/7/365

Access to a personal account manager who will learn the specifics of your business and your customers inside and out. 

No automated attendants, so if you phone during business hours, a person will answer. 

PRN funding will handle collections for you, so you can reallocate your staff to areas of your business where they add more value.
With PRN Funding, factoring medical invoices is a simple and easy process.
PRN Funding Location Details
This medical factoring company is based out of Ohio and can be found at:
25101 Chagrin Blvd., Suite 250

Cleveland, OH 44122
Alternatives to PRN Funding
Although there are hundreds of factoring companies available in the USA, the real challenge is finding one that meets your unique business requirements. To ensure your invoices are in capable hands, it's crucial to select a factoring company that has a deep understanding of your industry, clients, and challenges.
One of the best ways to gain the knowledge you need to make an informed decision is with our Invoice Factoring Guide! You can then use your newfound knowledge to explore our database of factoring companies nationwide and compare their services to find the best match for your business.
You could also leave the research up to our capable team. Contact us today for a complimentary consultation, and we will be happy to help you find the right financial partner for your unique situation.
Request a Factoring Rate Quote